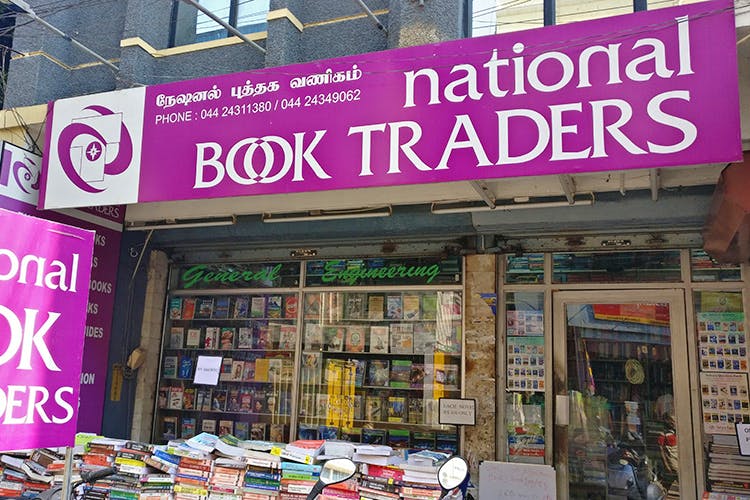 This Tiny Bookstore Houses Novels, Guidebooks & More At Slashed Prices!
Shortcut
National Book Traders is a tiny and dusty old bookstore on Natesan Street in the heart of T-Nagar that is a treasure trove for super cheap books, especially academic ones.
What Makes It Awesome
Remember Ollivander's wand shop from the Harry Potter series? This store reminded us of that! It's tiny, dusty, dingy and cramped, yet it's filled with more books than you can possibly imagine. We happened to learn about National Book Traders by chance as we were passing by and saw their collection of novels on sale outside for just INR 100. Yes, that's right, INR 100! Intrigued, we looked inside to find out more.
We learned immediately that their collection of fiction is fairly limited, with the likes of Dan Brown and Peter James being the extent of it. The books on sale outside for INR 100 are a random assortment of varied genres, and we mean really varied. We found steamy romance novels next to novels about the World War. So if fiction is your genre of choice, we recommend coming here and rummaging through their books as we're sure you'll find something to your liking.
National Book Traders is predominantly an academic bookstore that sells books for cheap. Any exam, be it Boards, the IIT-JEE exam or just a fluid mechanics test for engineering students, you can find course material here to help you get through it. They're known for the large variety of textbooks and guidebooks they have and the store owner and staff know exactly what to find where. What's even cooler is that they have an entire shelf of textbooks for 50 percent off! Furthermore, almost all store-bought purchases are 10 percent off! Students reading this, take note, there are study guides and question banks for all major exams in all subjects, and so even if you have your study material sorted you can come here for those extra marks. All their stock comes in fresh and you'll always be able to find newly published books.

Comments