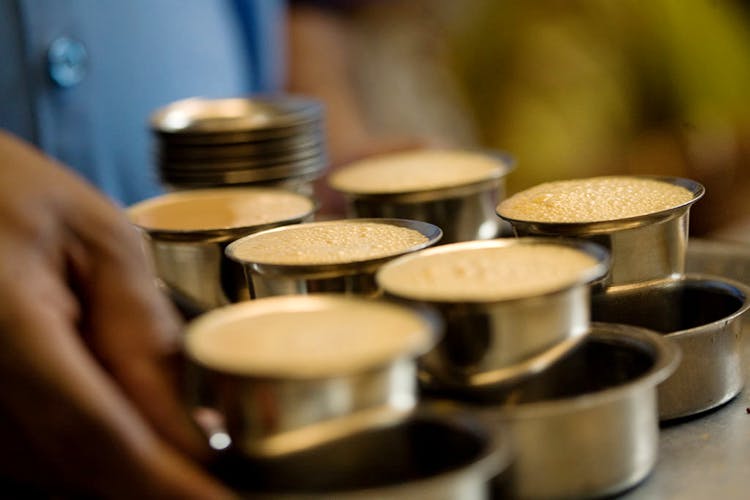 Have You Had The Filter Coffee & Chilli Parotta At This Legendary Vegetarian Restaurant?
Shortcut
The New Woodlands Hotel in Mylapore is over 70 years old and easily houses one of the most iconic restaurants in Chennai. One whiff of their sambar and you'll know why!
What Makes It Awesome
Among the most anticipated outings of my childhood in '90s Chennai were trips to New Woodlands Hotel in Mylapore. Just thinking about their piping hot idlis, puffed up pooris and flaky Kerala-style parottas was enough to make me drool back then and the truth is that it still does. Their restaurant, Vrindavan, doesn't look the way it did back then – it now has air-conditioning and plush seating, but that's about all the change that it has undergone.
They continue to retain their 'strict' vegetarian food menu as well as their trademark hospitality. If you're here for breakfast, I'd recommend you start with their dosa with a plate of vada on the side, split a poori masala with a friend and then finish your meal with their legendary filter coffee.
If you're at New Woodlands's Hotel for lunch, don't miss their South Indian Lunch Thali that includes Woodlands' famous rasam and sambar. If you're super hungry, then go for the Maharaja Thali which costs around INR 200. My favourite time to visit New Woodlands is for Coffee/Tiffin time because they make some amazing snacks. Do try their Chilli Parotta, where they mince Kerala parotta into a spice mix that's incredibly addictive and complements your coffee perfectly! If you're feeling nostalgic (and even if you aren't), do head to New Woodlands for some and authentic South Indian food!
Comments