D-I-Y Veggie Noodle Bowls & Chunky Brownies At This Wok Bar In Kilpauk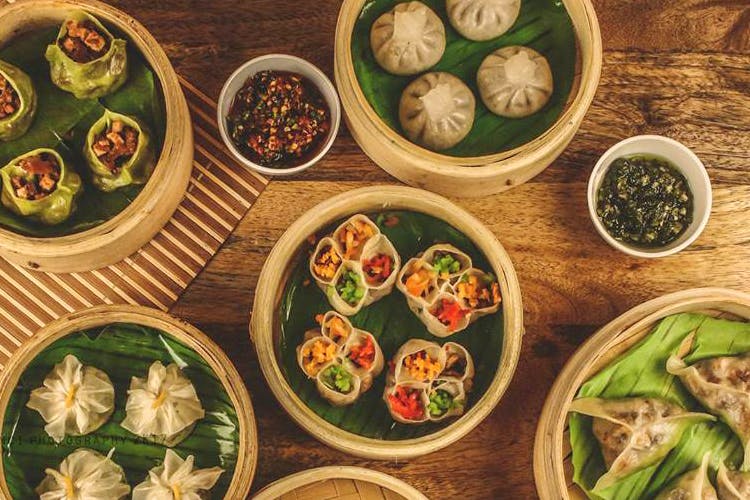 Shortcut
We "woked" all the way to check out Kilpauk's Noodle Theory. And we made our own noodle bowls too.
What Makes It Awesome
This small restaurant (that can host only up to 12-15 people) in Kilpauk gives you a chance to make your own bowl and wok stir-fries, but sorry meat eaters, they only serve vegetarian food here. But hey, fret not, they have some exotic veggies like water chestnut, bok choy and bamboo shoots you can add to your meal. It's always fun to customise your own meals, isn't it? Get your own woks for INR 189 and if you're confused about what to order, just ask the staff, they'll be able to help!
Start off first with a base and pick from spinach noodles, soba, udon, and even vermicelli rice noodles to jasmine rice. Choose your protein (between tofu and paneer) and then add in your five vegetables. We chose mushrooms, baby corn, water chestnut, broccoli and bamboo shoots. Add for sauce — we chose black bean sauce but there's also spicy peanut sauce, Japanese Red wine sauce and Green Thai sauce to name a few. And lastly, top it off with garnishes like toasted sesame seeds or burnt garlic. We tried soba noodles with black bean sauce topped with burnt garlic – it was good but didn't seem extraordinary.
They also serve baos (our mushroom tofu with miso was a bit too salty and didn't make us go bao wow) but the starters were better. Do try the crunchy lotus stem because it was delicious. You can also get dim sums — cheese & mushroom or miso tofu with water chestnut. Craving something sweet? End it with chewy brownies — there's Kit Kat, Fererro Rocher, Choco Chunks & Walnut. Wash it all down with the lemonades or iced teas — the Lemongrass lemonade for INR 39 was truly refreshing!
While we weren't too impressed with the food, maybe next time we'll try a better combination! When you head here, let us know which one's the best, yeah? Oh, and don't miss out on the lotus stem appetiser!