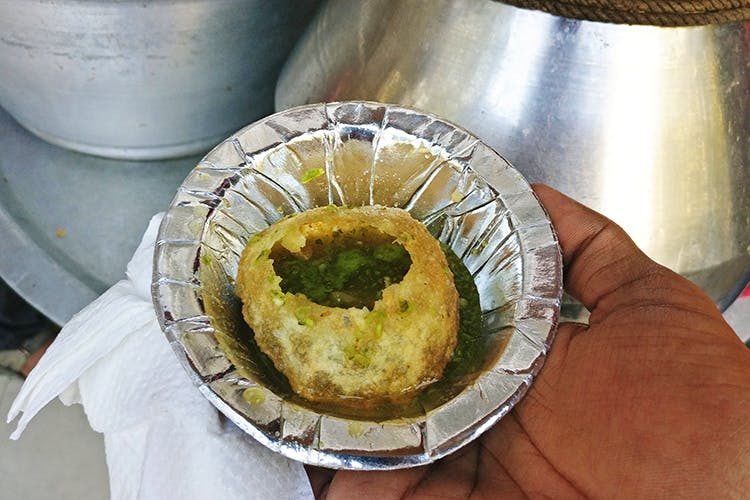 Drop Everything And Go Eat Pani Puri At This Popular Chaat Stall In Nungambakkam
Shortcut
This roadside chaat stall on Nungambakkam High Road has built a name for itself, thanks to its super budget chaat menu and in particular its pani puri.
What Makes It Awesome
Nungambakkam Chaat Corner is an eatery that has customers coming in from when it opens to when it shuts. Situated on an arterial road in the city's college belt, it is easily accessible from Loyola, WCC and Stella and draws large crowds from them and surrounding neighbourhoods. Known around Chennai for its pani puri, we decided to try it out. The stall is at the entrance to a clothing store and there isn't too much place to stand when it's crowded and you'll have to find parking in a lane nearby if you're going to bring a car.
Their most popular dishes are the pani puri, aloo tiki, badam kulfi, and dahi papadi chaat. Just INR 35 gets you a plate of six pani puris, of which the sixth is a masala pani puri. They're unlike any other pani puri you've had in Chennai, the pani is a little spicy and the masala packs a punch and when they come together it's amazing. While the pani puri is known as the star, we enjoyed their aloo tiki (with the chutney, is omg!) and badam kulfi a lot more. The badam kulfi tends to go down quick thanks to the spice from the chaat before it and we loved that.
What Could Be Better
There isn't any place to wash your hand and the menu doesn't have too much variety.

Also On Nungambakkam Chaat Corner
Comments