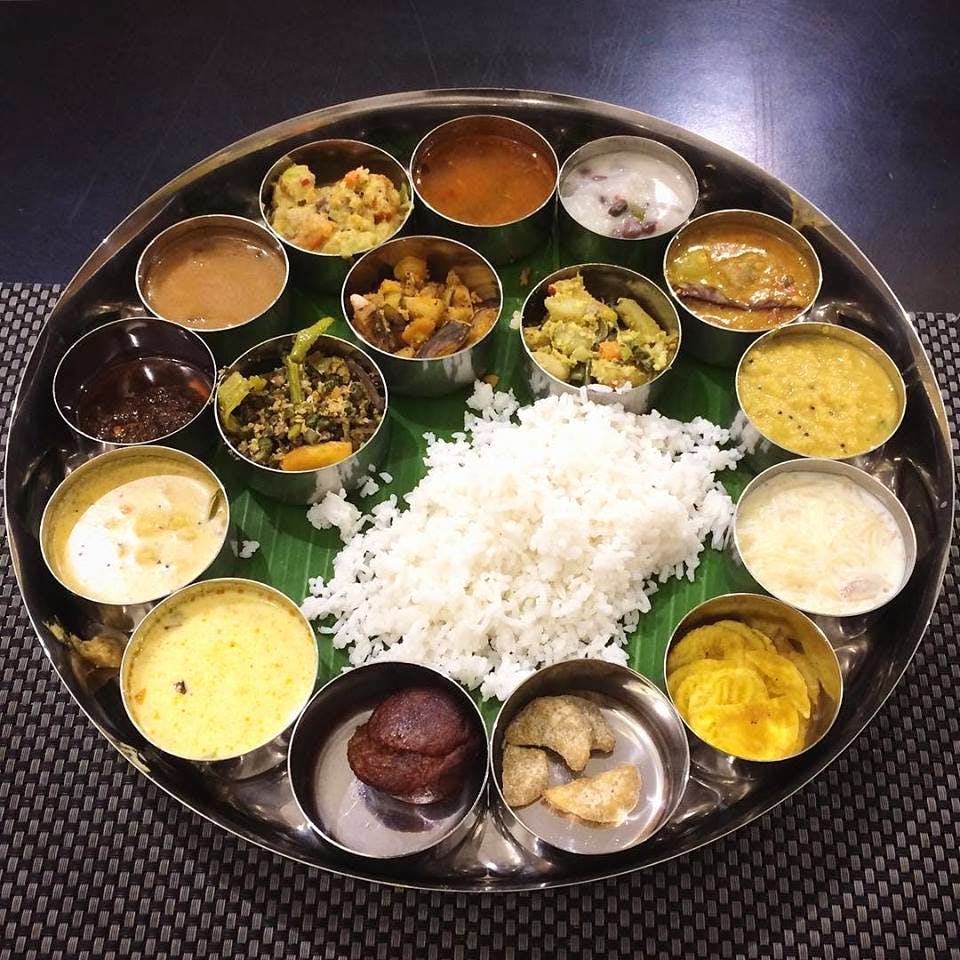 Onashamsakal! Celebrate It To The Fullest With This List Of Places Serving Onam Sadhya In Chennai
A Chennai born mallu or one away from home, this Onam, fear not! Chennai is going to make you enjoy this year's Onam (September 1 to September 15) to the fullest. Call your naadan and non-naadan friends for a feast at these places serving Onam sadhya (banquet in Malayalam) in Chennai because this festival is all about spreading the love!
Ente Keralam
Hands down one of the most popular places in Chennai for mallu food, Ente Keralam is serving sadhya starting September 6. Chef Namboodiri Unni Krishnan will be bringing his expertise from the homeland. For INR 649 (all-inclusive), you get all your favourites from Kerala-style sambhar to pulissery, a tangy yoghurt-based vegetable curry. On Thiruvonam day (September 11), the same spread will cost you INR 849 (all-inclusive). Do book in advance, because you know how hungry everyone gets during Onam! This ends on September 15.
Kumarakom
As evergreen as its name, Kumarakom in Nungambakkam is another popular restaurant for its Kerala goodies. For about INR 450, you can have their sadhya with olan (ash-gourd cooked in coconut milk) and avial (mixed veggies, curd). There's paayasam and all that other yummy stuff too. A total of 24 items! That's something. This will be available only on September 11.
Kuttanad
If you want to have a homely meal at a more affordable price, check out Kuttanad for its sadhya. It's priced at INR 450 for dining and will be served only on September 11. Get ready to finish all those banana chips, pickles and choru (rice) with parippu (dal).
Sanjeevanam
Drop in here between September 7 and September 11 for some yummy sadhya. Priced at about INR 600, the spread will include about 26 items like banana chips, pappadam, pickles, poriyal, pachadi, eruseri, aviyal, Kerala rice, steamed rice, sambar, rasam, paayasam and more. They even have a kids special Onam sadhya priced at about INR 380.
Kalpaka
Available only on September 11, sadhya here will cost you about INR 300. From poriyal and paayasam to avial and pachadi, get your complete dose of Onam food at this restaurant (about 20-22 items). People will be lining up for their sadhya, so go early to skip the line!
Crimson Chakra
Starting from September 8, you can enjoy a filling Onam sadhya spread at Crimson Chakra till September 13. With about 16-18 dishes up for grabs, the price for sadhya here is about INR 600 and will have all your favourites like pickles, paapadam, paayasam and avial. You can also get the sadhya home delivered.
Malabar Kitchen
Celebrating Onam on September 11, Malabar Kitchen has quite a feast waiting to be devoured. Priced at INR 450 plus taxes, you can gorge on about 20 dishes, between 12 pm to 4 pm. Make sure you make reservations before you head there. You can also opt for takeaway priced at INR 495 + GST.
Maha Mudra Restaurant
Starting September 7, Maha Mudra Restaurant will be celebrating Onam till the very end (September 15). The sadhya here will comprise over 28 dishes. Priced at about INR 750 plus tax, you can hog away on chips, kerala style buttermilk, paayasam, avial, olan, Kerala rice and more.
Comments