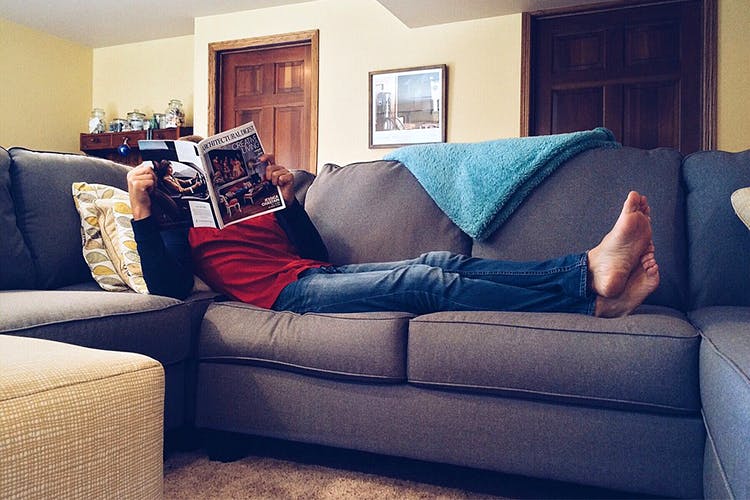 10 Services In Chennai That You'll Love If You Hate Going Out
Hey there, lazy cats. Does your idea of a great weekend involve cosying up under a blanket and binge-watching TV shows all day long? Let's be asocial together! Here's a list of 10 services in Chennai that makes life easier for procrastinating folks such as ourselves. Because, sloth life for the win!
Bigbasket
No more taking a trip every week to the supermarket. Get your groceries delivered to your doorstep thanks to Bigbasket. These guys even have an express delivery option where you can get your order within 90 minutes. Forgot to buy a carton of eggs or a bottle of shampoo? Just log onto their website or app and you're sorted. They even have cut and peeled veggie packs that make cooking much easier!
UrbanClap
Too lazy to clean your house? Want to get fit but don't want to get out of the house? These guys do it all! From providing Zumba instructors to helpers who will clean your sofas, kitchens, and bathrooms, life just got easier with UrbanClap. You can download their app to book sessions.
EasyFix
Has your microwave stopped working? Plumbing problems? AC not working during Chennai summers (gasp!)? Just get on the EasyFix website and book a repairman and watch your problems get fixed, easy peasy!
Swiggy, Zomato & UberEATS
If you don't even have one of these apps on your app, you've got to be living under a rock! Or starving yourselves. Don't do that. Come on now, order the delicious dark chocolate dessert with sea salt from Amelie's or chai and egg puffs from Chai Kings for tea time. UberEATS even has A2B on board for your south Indian brekkie cravings. Also, watch out for their occasional discounts and thank us later. Happy eating!
Fipola
Fipola has everything from poultry and lamb to all kinds of seafood. But hey, we know you're extra lazy and cooking elaborate meals isn't probably on the agenda. So guess what? They also have ready-to-cook products which include Breaded Crab Cakes (INR 314 for four pieces), Mutton Samosas (INR 314 for five pieces), Lamb Galawati Kabab (INR 314 for four pieces) and more.
Fipola also makes their very own glazes, spreads, and pickles which you can use to add to your cooking and the prices range from INR 70 to INR 200. Hurray!
Housejoy
If waxing wasn't a pain already, just the thought of going all the way to the parlour? No, thank you. Have beauticians come home and get treatments done without moving an inch. Pamper yourself to a mani-pedi and even get a massage courtesy the people at Housejoy.
Feathery Neon Crate Book Subscription
Bibliophile+introvert? This one's perfect for you. Get some amazing books sent to you along with goodies like bookmarks and coasters according to a monthly theme.
Genie
Craving Sathyam popcorn? But not in the mood for a movie? Well rub that lamp, er, we mean tap your phone, download the genie app and watch all your wishes come true! They'll even deliver documents, pick up items you've left behind and more! To know more check out our recommendation here. You can download the app and start getting your wishes!
Pepperfry
One of our personal go-to places for anything to do with making our house into a home! Order the cutest laundry baskets (we got one with spaceman doodles on it)}, lanterns and even cupboards that they deliver and put together in a jiffy! And watch out for some deals that they put out to get your favourite products at the best prices.
Planet popcorn
What's a Netflix binge without popcorn? Order 7 different flavours of gourmet popcorn from the peeps at Planet Popcorn. There's Lemon Pataka, Cheese Lovers and even Chocopop. So go on, and munch away!
Comments