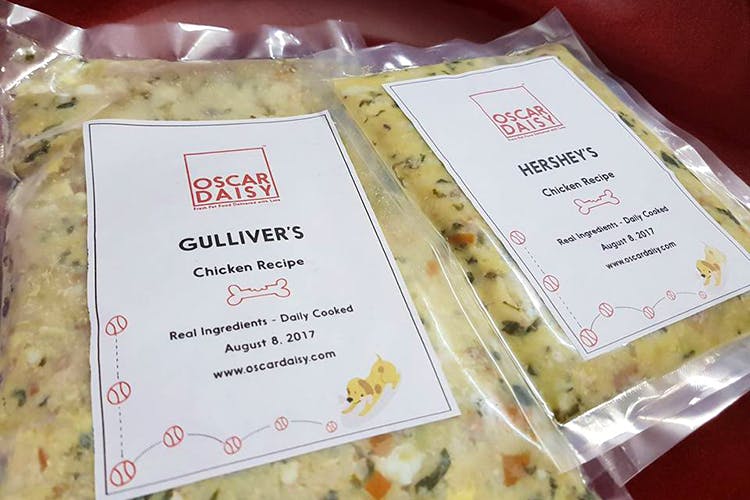 Something Pawesome: Get Fresh Pet Food Delivered To Your Doorstep!
Shortcut
Oscar Daisy is a Chennai-based pet food subscription service that delivers freshly cooked pet food every day, right to your doorstep!
What Makes It Awesome
If you're a pet owner, you know how difficult finding nutritious and fresh food for your furry friends can be. While pets find human food delicious, it is not the healthiest of food for them and if you want pet food tailor-made to their nutritional requirements, then dry (and often preservative loaded) pet food is the only other option. Enter Oscar Daisy, a subscription-based pet food service that will serve and deliver delicious, fresh, home-cooked meals for your pet!
Born out of a pet parent's quest for fresh and nutritious pet food, Oscar Daisy's food will take proper care of your pet's diet. it uses human-grade ingredients and the freshest of herbs in their pet food. Their recipes include ingredients like yellow squash, eggs, rice, pomegranates, peas, chicken liver, sweet potatoes and coconut oil. The food is prepared fresh every morning after which it is delivered to your house. Rest assured your pet will be licking her/his bowl clean and begging you for more!
All you have to do is to sign up on their website where you'll have to provide details of your pet, such as breed, weight and age. Oscar Daisy's algorithm will then customise meal plans based on this information thus ensuring precise nutrition! No more wondering if you've underfed or overfed your pet (if you have a Labrador, you know the struggle!). Woof are you waiting for?
Ask Lavanya a question