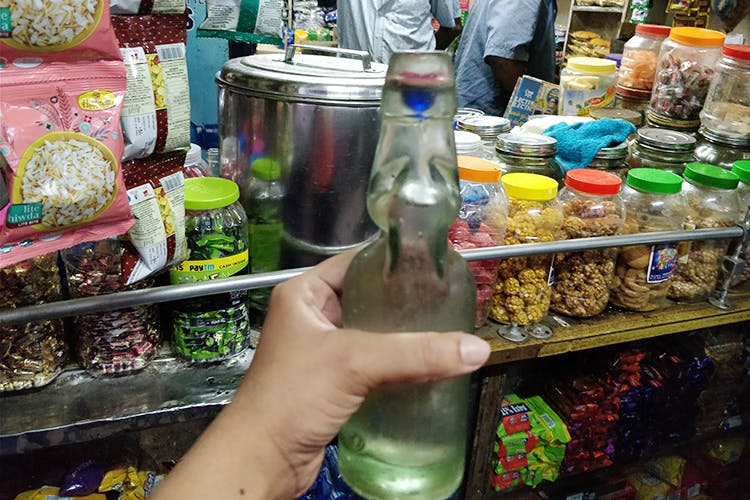 We Tried Paneer Soda For The First Time Ever At This Kutti Kadai In Mylapore
Shortcut
We had our first ever bottle of paneer soda at Lakshmi Cool Bar Mani Kadai that's been around for 50 years and this is how it went.
What Makes It Awesome
Okay, let me painfully admit this. As a hardcore Chennaite I still hadn't tried the popular drink paneer soda. Blasphemous, I know! For those of you who are new to the city, don't get confused. The drink doesn't have anything to do with actual paneer or cottage cheese. Paneer is actually the Tamil term for rose water! Remember how much we've raved about the rose milk at Kalathi Rose Milk Shop? Well, this drink is a fizzy version using rose essence, soda, and sugar (without the milk of course). And we tried it at Lakshmi Cool Bar Mani Kadai in Mylapore. You can get there using GPS!
First of all, can we just say how adorable the thaathas (Mani and Govindan) are at this small cool bar? Mani says he's been running the shop for over 50 years now. And judging by his accent I asked if he was a Malayali and indeed he was and we were both bonding over the fact that we're both from Palakkad (fist bump, Mani thaatha!). He handed me a bottle and asked me oh-so enthusiastically to press the top of the bottle of paneer soda to open it. I did and began to drink it sip by sip. There's an overpowering taste of soda and a very subtle hint of rose and it's sweet. It's pretty refreshing and quite perfect for summer. But I think I prefer creamy rose milk a little too much! So I asked them if they had some and they delivered. I had a swig of that too and was content!
You get other little snacks like peanut candy, biscuits, jalebis etc. Drop by if you're this side of town to try a sip of paneer soda if you love it or want to try it… and do strike up a conversation with these lovely owners!
More Information
Lakshmi Cool Bar Mani Kadai
Comments