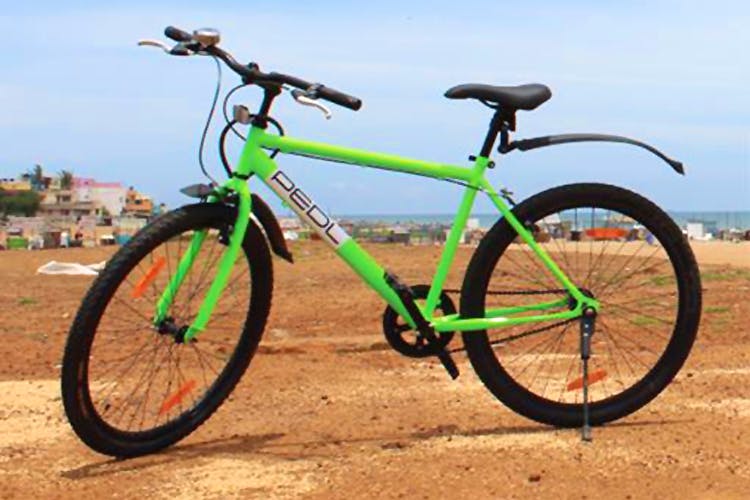 Rent Bicycles For Just INR 10 Per Hour At Besant Nagar & Ride Around The City
Shortcut
Not too thrilled about walking to the grocery store and coming back with heavy bags? No worries! PEDL is now in Besant Nagar and the bicycle-sharing service has their green cycles for you to rent.
What Makes It Awesome
As kids, we were all forced to learn how to cycle because it was the best way to get places. And that hasn't changed, because now Zoomcar (the self-drive car sharing platform from Bangalore) launched PEDL in three cities and namma Chennai is one of them. It is a technology-enabled cycle sharing service, much like how New York and London already have stations where you can rent a cycle by swiping your credit card at one location and upon returning the cycle, you are charged for the time you've used it.
It's perfect for quick trips to the grocery store or if you just want to cycle around the neighbourhood for a while. And if you're feeling enthusiastic, you can take the cycle out of Besant Nagar, just as long as you bring it back. (One can rent a PEDL from the Besant Nagar Depot).
Following the same format that Zoomcar has with their car-sharing, PEDL provides the same benefits of being able to use the cycle for a few hours before you return it and carry on with your day. It really is very simple! Find the nearest PEDL location, pay via Paytm and after you're done using the cycle, return it to the location. And it is also very affordable at INR 10 per hour. The cycles have a smart lock (probably to stop people from stealing the striking green cycles) and can only be unlocked with a QR code that you are provided once you've paid for your time.
Besides it being environmentally friendly, it's accessible, quick and also counts as your daily exercise. And it makes things like shopping and getting from one point to the other much easier than waiting in long lines of traffic every single day.
Comments