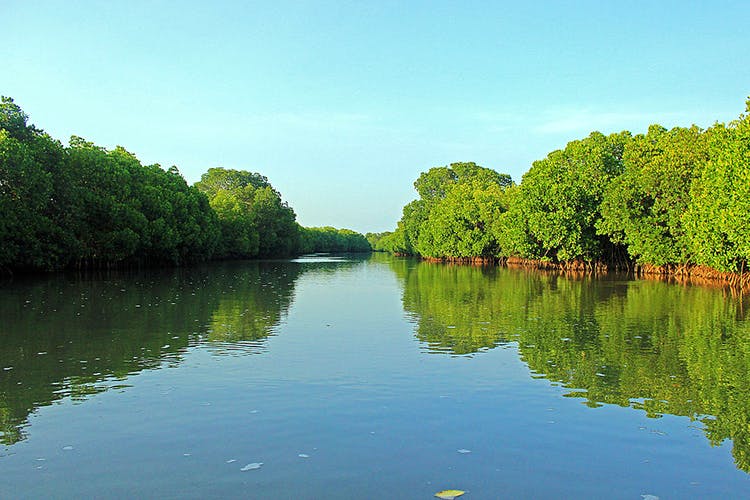 The World's Second Largest Mangrove Forest Is Just 4 Hours Away, In Pichavaram!
What Makes It Awesome
Spread across a massive 1,100 hectares, the mangrove forest in Pichavaram is beyond picture-perfect. There are almost 40 islands in this forest, making it the world's second-largest Mangrove forest, with lush trees are all around. The forest is home to a variety of populous flora and fauna. Over the years, the Pichavaram mangrove forest has become a haven for wildlife like migratory birds such as snipes, egrets, storks and herons. The period between September and April is the best time to spot them. Sand lining the Bay Of Bengal, the mangrove forests are dunked few feet into the water maintaining the temperature and quality of it for its inhabitants.
A boat cruise here is a must! There are also speed boats if you're heading here with your squad. Managed by Tamil Nadu Tourism, you can choose to go boating for INR 185. If you pay a bit extra, your boat handler will even take you to the interior part of the forest, where the trees hang right next to your boats!
We suggest you head to Pichavaram Mangrove Forests in late evenings as it's really hot in the afternoons. However, to beat the heat, you can also take their first ride when the temperature is pleasant and tolerable. They are open from 9 am to 6 pm and even on Sundays. You can even club your visit to Pichavaram mangrove forest with your next Pondicherry trip. Head on over and watch the sunset behind the mangroves with bae, we say! And the best part of it all? All of this is just a four-five hour drive from Chennai. You could also hop on to a train and reach within four hours.
Pro-Tip
Don't forget to strike a good bargain with the local boatmen! They know the best routes and a few extra bucks can take you to fascinating unexplored tunnels.
There aren't many options for accommodation here hence we would advise booking a place in Chidambaram town. You can easily catch a local bus from the town to the village of Pichavaram. There are also a lot of temples and historical places to see around. Natarajar Temple in Chidambaram is a highlight of the place.
Also On Pichavaram Mangrove Forest
Comments