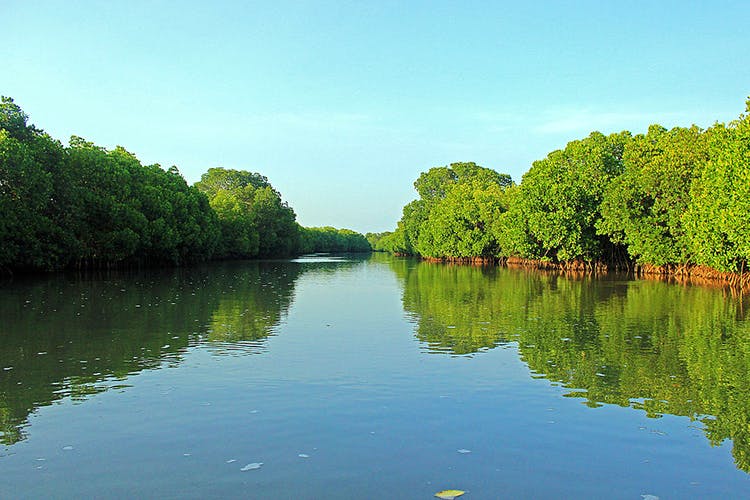 The World's Second Largest Mangrove Forest Is Just 4 Hours Away From Chennai
Shortcut
Did you know that the world's second largest mangrove forest is right here in Tamil Nadu and you can even go boating? Here is everything you need to know about Pichavaram.
What Makes It Awesome
Spread across a massive 1,100 hectares, the mangrove forest in Pichavaram is beyond picture-perfect. There are almost 40 islands in this forest and with lush trees are all around, a boat cruise here is a must! There are also speed boats, perfect if you're heading here with the squad. Managed by Tamil Nadu Tourism, you can choose to go boating in this pristine place starting at INR 185. If you a pay a bit extra your boat handler will even take you to the interior part of the forest, where the trees are literally hanging right next to your boats!
For those of you that don't know, the mangroves are unique because of their ability to tolerate salt water thanks to their aerial roots. So an otherwise lackluster coast, has a lush coastal forest thanks to the mangroves, which over millennia has become a haven for wildlife, like migratory birds. The best time for bird spotting is between September and April. Best part? All of this is just a four-five hour drive from Chennai. We'd say ditch Bangalore and head here instead. You could also hop on to a train and reach within four hours. You can even club it with your next trip to Pondicherry Since we are already facing the scorching summers, the mangrove forest is best visited during late evenings (you'd probably melt in the afternoons when it can get really hot). They are open from 9am to 6pm. Sunset from these islands might just be a breathtaking thing to experience.

Pro-Tip
Don't forget to strike a good bargain with the local boatmen, they know the routes the best and a few extra bucks can take you to fascinating unexplored tunnels.
Also On Pichavaram Mangrove Forest
More Information
National Parks & Wildlife Sanctuaries
Pichavaram Mangrove Forest
Comments