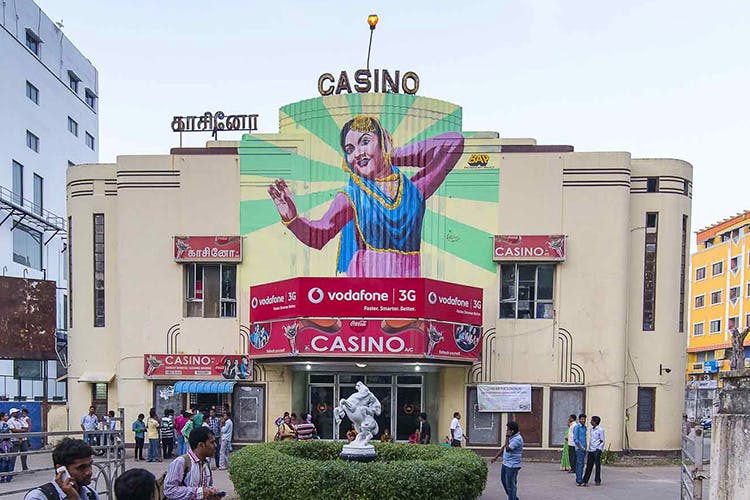 Chennai Folks, Have You Seen These Cool Works Of Art Along Our Public Spaces?
For locals and tourists alike, the colourful walls in our fair city have always been fascinating. And for those wondering if you've missed out on some of this art, let's help you track them down.
#ConquerTheConcrete
In 2015, the Goethe-Institute Chennai and Max Mueller Bhavan collaborated with Chennai City Connect to transform and inject new life into the walls of some of the city's most popular places. And not just with random artwork, but to show the spirit of Chennai through art. While lots of people in India (and around the world) consider graffiti to be tacky and unartistic, it is really about the way that the graffiti is done that makes it beautiful. So artists in Chennai as well as artists from Germany came together to paint the town and anywhere you go in namma Chennai, you get to see the beauty of this work.
Paint Over
Then there's also Paintbox. This Chennai-based initiative takes their job very seriously by adding colour to dirty walls in the city. They find the walls that have been spat on (and worse, ugh) and whitewashes them. Then they invite other artists to come and join them on Sundays to add colour and art to these walls. And they cover bus stops, pavements, public places and everybody and anybody is welcome to join in.
Theatres, Airports & Stations
If you're a frequent flier, you've noticed the twin dragons on the side of the pillar where you turn into the airport – the blue background amplifies the gorgeous orange and red dragons as a farewell and welcome home kind of message. Movie-goers have definitely seen the "Tigers From Space" piece of art along the wall in the Sathyam Cinemas parking lot. This piece of art was done by a Berlin artist and is quite beautiful and colourful. But the one piece that really stands out is the painting on the wall at the Egmore Station. It shows different faces, depicting Indo-German thought processes in bright colours that you cannot miss.
Stella Maris
The students of Stella Maris College on Cathedral Road have taken up the initiative to keep the walls of their college clean and free of paan stains and more. The walls spanning the campus and facing the main road have been decorated with art and inspirational quotes that have all been done by the students themselves. It's a different view during your rush hour drive and one that you have to admit adds a little something to your day.
Lady Andal
Even Lady Andal, the school on Harrington Road, has started an initiative of the same kind by covering the outer walls of the school with art done by the students. A lot of the art is about girl power and love between fellow citizens, spreading a positive message while showcasing their talent.
Ask Anna a question