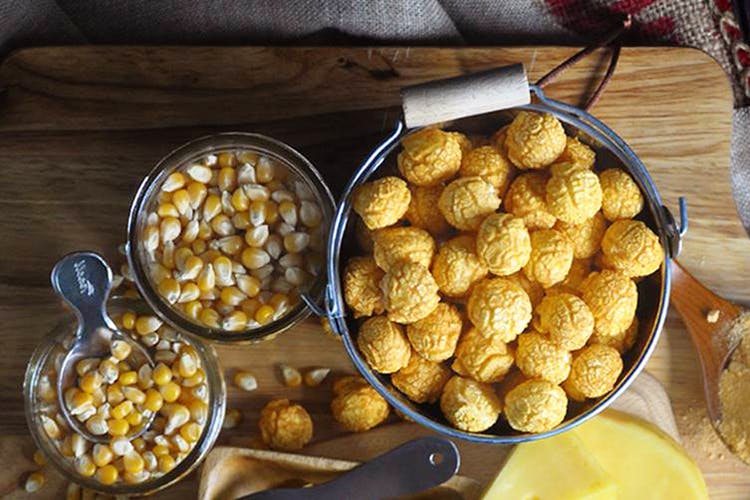 Munch On These Bombastic Popcorn Flavours Including ChocoPop For Your Next TV Binge
Shortcut
You don't need to go to the movies for the best tub of popcorn. Now you can try all kinds of flavours and get them delivered to your doorstep, thanks to Planet Popcorn.
What Makes It Awesome
If you're someone who can't stop reaching into bags of popcorn and grabbing away more than a handful to chomp on, Planet Popcorn has some awesome treats for you. Their popcorn looks a bit different and has a special roundish shape – this is why they're referred to as Mushroom Popcorn. Starting at just INR 80 you can choose from a range of flavours and get them delivered straight to you! Based on your appetite you can pick from different pack sizes. The Small pack size starts at 60gms, the Medium at 130gms for INR 150 and they even have a Party Pack at 500 gms for INR 500 depending on the flavours.
Speaking of, which one would you like to try? We're eyeing the ChocoPop. Popcorn coated in dark chocolate that's been melted and then cooled? Oh yeah! There's Lemon Pataka for a nice zingy burst of flavours, Chilli Devil for those who want to spice it up, and Masala Masti for those who love a whiff of curry in their snacks too. Then there's the more common flavours like Cheese Lovers, Caramel and the ever classic Salted.
They have a factory which is located in a quiet village called Nellikuppam in the Kancheepuram district of Tamil Nadu where they employ local women to package the popcorn in the special packs. This popcorn provider has products across stores in Chennai – you can find them at your local Nuts & Spices stores, Nilgiris and Gormei Market.
Too lazy to go to the store? Start your weekend Netflix binge sesh by ordering in. Just log onto their website, place your order and get it delivered within 24 hours. The best part? The popcorn is handmade (no thank you, machines!) with fresh kernels and ingredients and they're packaged using special technology that makes sure that your bag of popcorn remains as fresh as possible.
Pro-Tip
They even have flavours like Butter Toffee, Dark Chocolate, Jalapeno Pineapple and Butterscotch and in the Cheese Flavours they have Cheddar Cheese and Spicy Cheese. These aren't available online but if you give them a call they'll be able to arrange it for you.
Comments