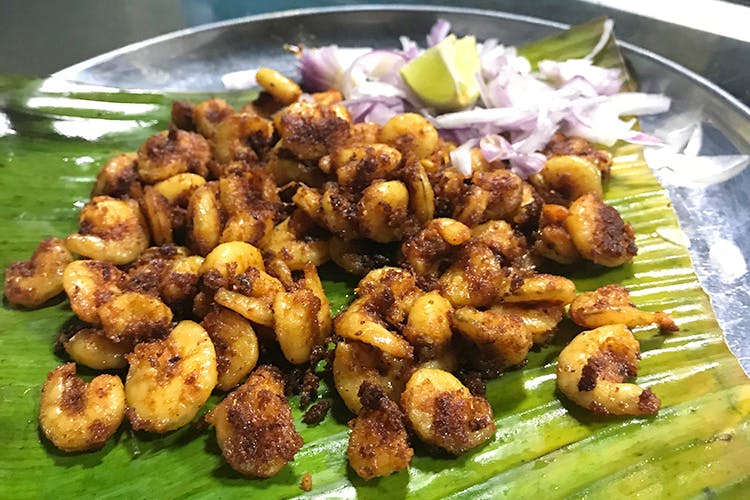 This Akka's Kadai On ECR Serves Fried Masala Prawns Starting At Just INR 50
Shortcut
Head over to Palavakkam's Ashok Sea Food, popularly known as Prawn Akka Kadai, to get the most delicious prawns and fish at really affordable prices!
What Makes It Awesome
First, we discovered Sundari Akka Kadai at Marina Beach, and now we stumbled upon Prawn Akka Kadai on ECR. Located towards the end of the Palavakkam beach right before Anna Street and near Green Meadows Resort, is this tiny blue stall, run by Kalpana Akka who cooks the most affordable seafood by the coast. She's friendly and even nice enough to cook up what you like based on your request! Along with yummy prawns, this shop is also known for serving fresh fish and calamari too.
The Prawn Fry is served for INR 50 and INR 100 based on portion size – the prawns are juicy and marinated in akka's special masala which has the right amount of spice. The prawns are freshly de-shelled in front of us and served up with a dash of lime and we love Prawn Akka Kadai for this
For their catch of the day, expect to find everything from Sankara (Red Snapper) to Vanjaram (Seer Fish) and Nethili (Anchovies) depending on the catch of the day. The fish is deep-fried yet soft on the inside, marinated in aromatic spices and served with chopped onions.
Prawn Akka Kadai even serves prawn curry and rice on request. And on days when there is no catch, their Chicken 65 is worth the try. Since this tiny kadai is by the beach, you get to sit on stools and enjoy a lovely view. We suggest getting there around 6 pm for seafood preparations that are nice and hot. She shuts the shop by about 10 pm.
Comments