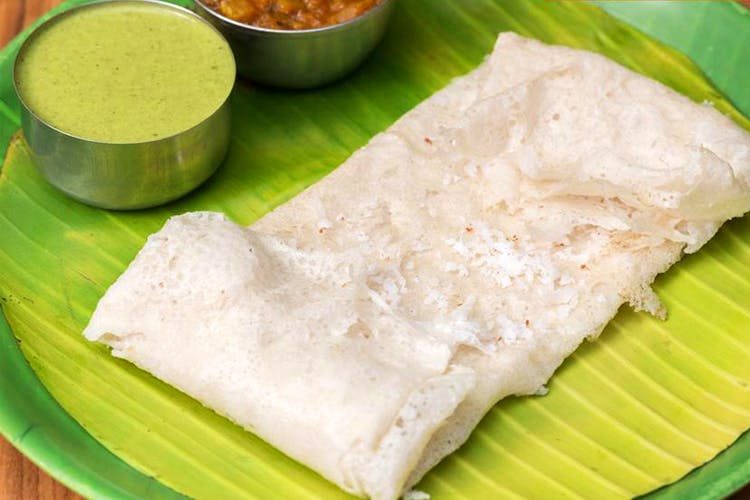 Head To This Charming Village-Style Restaurant For Soft Neer Dosas & Millet-Based Meals
Shortcut
A scrumptious, healthy, vegetarian South Indian meal in a charming restaurant, that'll leave your wallet happy, your face smiling and your tummy full! Don't miss Prems Graama Bhojanam in Adyar.
What Makes It Awesome
Warm colours, wooden benches, and beautiful paintings exude a charming village vibe. Enchanting enough to make you forget that there isn't an AC, though don't worry the fans provide adequate airflow and will leave you feeling cool.
The décor and paintings are made by the owner, with an emphasis on reusing and recycling waste material. Curtains made from old sarees and potted plants kept in old plastic bottles adorn the restaurant and lend to its cosy ambience.
The food is about the closest thing you will get to your grandmother's traditional vegetarian cooking. All their ingredients are locally sourced and instead of grains like rice they use millets like bajra, jowar, ragi as healthier alternatives.
We love how they've included healthy options so say bye-bye to maida and sugar! Jaggery and traditional sweeteners are used instead of processed sugar and all their foods are preservative-free. Even the water has additions like camphor and tulsi to make it taste better and aid digestion. How cool is that?
Meals start at INR 95 and go up to INR 200. The top picks on the menu are the Konkan Neer Dosai, Mini Uthappams, Rasam Sadham, their plate-sized Thatte Idlis, and Sukku Coffee. Oh, and don't forget to try out the refreshing Buttermilk.
Their well-loved simple South Indian meals are light, healthy, and offered to you at a very modest price point. No surprises that PGB is one of the highest rated restaurants in Adyar according to Zomato. You're definitely going to want to stop by the next time you're in Adyar and we recommend that you do!
Comments