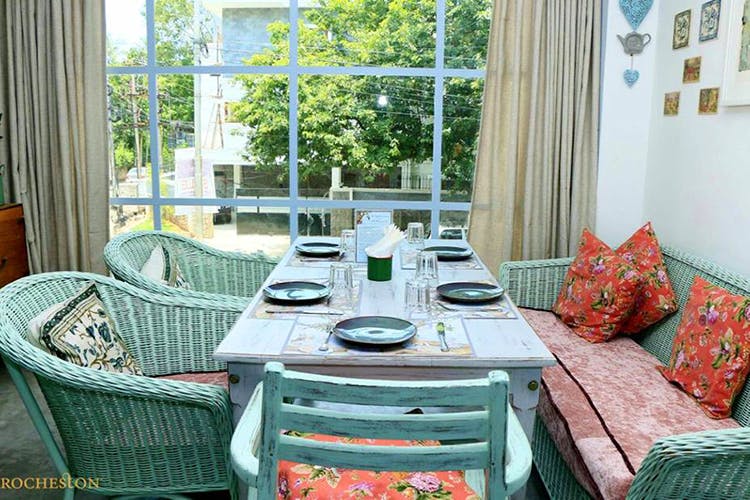 Free WiFi & Enid Blyton Vibes: 6 Pinterest Worthy Cafes You Need To Check Out In Chennai
Whether it's for a quick bite between errands, a riotous catch-up with friends, a quiet spot to work, or an official meeting with a colleague, Chennai abounds in gorgeous cafes for all your needs. With a burgeoning café culture and the proliferation of interesting eateries, the city is now spoilt for choice. 
Chamiers Cafe
Located on the top floor of a two-storey bungalow, Chamiers Café is a favourite among the young and old, local and expat alike. Unique in its curious but successful coming together of British-inspired interiors and old-world Madras charm, the cafe's décor attracts a large number of visitors a day. Vintage wallpaper, an assortment of retro bric-a-brac including what looks like a large, once-functioning radio set, old-time advertisement posters, and its much-Instagrammed ceiling light-fixtures, makes this an ideal place to meet friends for a lunch, work uninterrupted for several hours, or catch a late post-dinner snack (the kitchen is open until 11.30 pm).
Whether you're there to sample the cafe's selection of pricey but delicious salads, pasta, cold-pressed juices, cakes, shopping at the Anokhi downstairs, or browse through some unique jewellery and handcrafted goodies at the shop adjoining the café, Chamiers promises a whimsical getaway.
Wild Garden Café at Amethyst
Drive down the vexing, almost impossible-to-navigate Whites Road, turn into Amethyst's grounds, and you're catapulted into a different world – an oasis of green and calm, where the traffic and noise of the outside world suddenly seem like a distant memory. Amethyst is a lesson in restoration – once an old warehouse granary, the majestic colonial-style building is now home to a café, a flower shop with plenty of greenery, and a lovely, curated boutique called Upstairs.
A cobbled path flanked by astonishing foliage and charming lily ponds leads you to the building and its idyllic garden dotted with tables and chairs. Occupy a table in the wide verandah with its chequered floor and antique wooden furniture, where the only sounds you hear are of muffled conversation and the whirring of the ceiling fans. The cheesecake and sorbets are particularly delicious, and the sugarcane juice is the perfect refreshing drink on a hot day. The best part – Amethyst Cafe is pet-friendly!
The Brew Room
Flooded with light streaming in through its large, floor length windows, this cafe is Chennai's first coffee microbrewery. Visit for its quaint décor, bench-like seating, exposed brick walls, cute cake posters and beautiful earthenware. Fast free WiFi, delicious crafted coffee – the Ice Brew is a must-try – and affordably priced food has transformed the café into the haunt of several young professionals and start-up folks. The café, housed in Savera hotel, offers plenty of parking, and has a small adjoining garden that comes to life at night with its charming white gazebos, twinkling fairy lights, and illuminated décor-only cycles. Visit by twilight for a touch of whimsy and some Oreo-Nutella cheesecake.
Ciclo Café
The name is a giveaway: Ciclo Cafe is a bicycle-themed café replete with wheels and other paraphernalia adorning the walls, and bike seats doubling as seating. The ground floor even has a shop that sells bikes and related accessories. The décor is quirky and interesting, framed posters on the walls complement the plush turquoise and purple seating, and the bright first floor has large windows overlooking the road. Apart from the welcoming ambience, the service is excellent and food well loved. Regular visitors strongly recommend the quiches.
Writers Café
One of Chennai's newest, Writers Café (in association with Higginbotham's) has fast become a favourite destination. The café boasts of a bookstore and tasty, reasonably-priced food. The only negative is that it is often crowded, and waiting time is long, though browsing through the books on offer is a great way to kill time. What is special about the café, however, is its mission: it trains and employs burn victims in a bid to help provide them with life skills. The café, it would seem, is all about inclusivity. Good enough reason to visit.
The English Tea Room
True to its name, the atmosphere of the English Tearoom, on Chennai's posh Kasturi Rangan Road, is reminiscent of a quaint little tearoom in the English countryside with wicker chairs, pastel-hued walls and tables, and dainty knick-knacks. Bathed in natural light, the smallish café offers a wide selection of teas, and is particularly well-loved for its desserts and its surprisingly diverse range of food options. Drop by for a fresh, tasty meal, work undisturbed through the day with some organic loose-leaf tea for company, or pretend you're in an Enid Blyton book with the Afternoon Cream Tea: feast on assorted pastries, scones with jam and cream, sandwiches, and, of course, tea at this cafe.
Comments