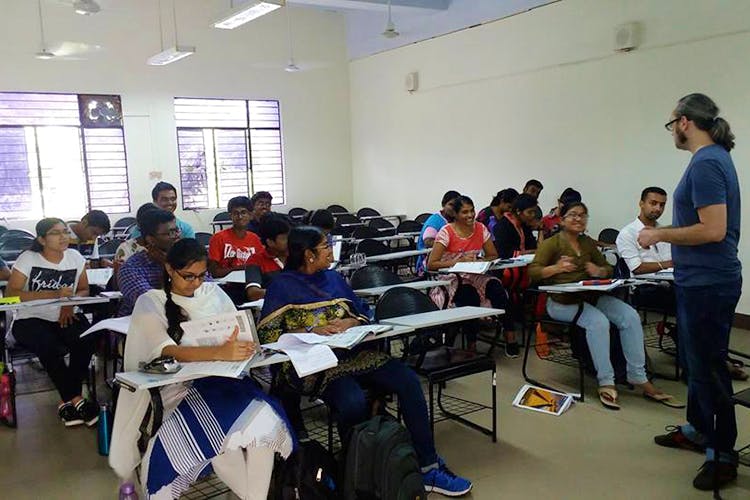 Five Classes In Chennai You Need To Take To Amp Up Your Resume
Got some free time and want to use it to build your future? There's loads of classes and courses you can take, so to help make it easier we've come up with the best ones in five different categories: language, IT, social media, communication and entrepreneurship.
Language Classes
INaWord is a language school that teaches six languages, namely French, German, Mandarin Chinese, Spanish, Japanese and English. Established in 2000, INaWORD focuses on participants becoming functionally proficient in the language, by building foundations in reading, writing, listening and speaking skills. The classes are highly interactive and are in small groups of 10-15. They offer short-term crash courses (10 hours a week of coaching and slower long-term courses (5-6 hours of coaching). While they do have courses for kids, a lot of their training is available for adults thanks to the part-time nature of their schedules. They are in Adyar, Anna Nagar, Kilpauk and Nungambakkam.
Information Technology
Focus'd IT Academy or more commonly known as FITA, is a training academy that focuses on IT training for working professionals in addition to offering a few language courses. This reputed academy has worked with over 10,000 students and is run by qualified instructors. They have currently 24 courses on offer, ranging from .Net, C and C++, Android, Java, iOS, Cloud Computing courses and more. Their schedules can be fully customised based on your schedules and courses can be compressed or expanded based on how long you want them to last. They have three locations across the city, one in OMR, Velachery and T. Nagar.
Social Media
Digital Marketing Courses is the education arm of the web developing company, Zuan Technology, which is based out of Chennai. They work with both corporates and professionals in both group and individual classes and have 11 courses on offer. Examples of courses they have are Social Media Marketing, Digital Marketing, SEO Training, Web Analytics Training, WordPress Training, E-Commerce Marketing Training and more. As with most programs for working professionals, class schedules can be customised to suit each person's schedule. Classes can be done both online and offline at their centres, in addition to that any classes that are missed can be caught up at a later date. Most of their courses are 45 days long and have around 10 hours of class a week.
Communication
The British Council Library in Chennai, has by far one of the most popular Business Communication workshops. Their workshop series is perfect for entry and middle-level managers looking to boost their career. The British Council's pedigree is second to none and their courses are known for being very effective. This particular series of workshops will cover everything from report writing to presentation skills in the workplace environment. Not only that, The British Council is a great place for corporate trainers to up their game with their Train the Trainer course. For folks taking the IELTS, there are courses there for you too. If there's anything English related that you're struggling with, then The British Council is the place to go.
Entrepeneurship
This last entry is a little different from the rest, it's a not a course per se, but a membership to an organisation of entrepreneurs from across the globe. Say hello to TiE Chennai, the Chennai chapter of TiE Global, an organisation that supports entrepreneurs by offering education, mentorship, sponsorship and funding opportunities. The organisation functions as a bridge between budding entrepreneurs and top-level management, so you can pitch your business ideas, network with the best in biz, and hunt for funding from people who are looking to invest. They regularly host conferences that feature successful entrepreneurs and are open to all of its members. Membership prices start at INR 5,500 but just INR 1000 for students below the age of 24!
Comments