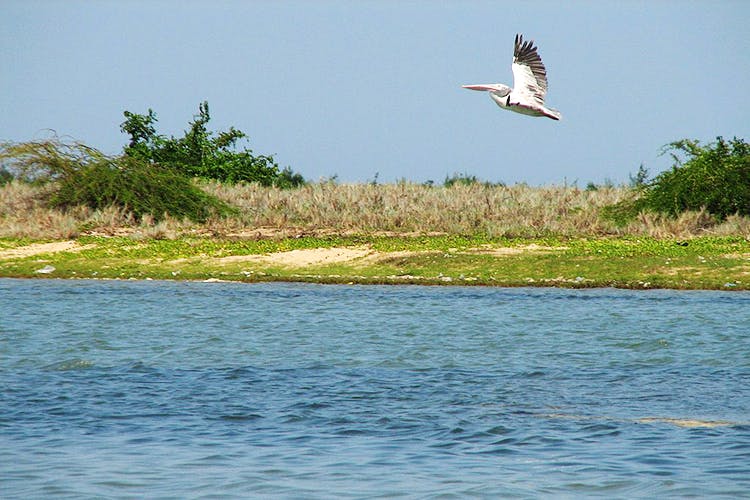 Find Flamingos & Other Gorgeous Migratory Birds Just Two Hours Away From Chennai
Shortcut
If you love bird-watching (especially the exotic kind) or just want to spend a one-day getaway with friends & family, make a trip to Pulicat Lake, India's second largest saline lake, in Nellore.
What Makes It Awesome
About 60 km from Chennai, the Pulicat Lake is almost a two-hour drive from the city. Spread over 600 km between Tamil Nadu and Andhra Pradesh, this lake, that's high in salinity, is said to be the second largest brackish water lake in the country. On your way, you can even see fishermen building boats and you'd definitely want to stop by the fish markets to get a feel of the local life.
Once you get to the lake you can ask the fishermen to take you across to the many little islands nearby. Get ready to soak in all the sights and sounds as you make your way in and around the Pulicat Lake. If you're lucky you can spot flamingos (mostly seen in the month of December), pelicans, spoonbills, herons, storks and more. There's even been sightings of Red Necked Stints, Bar Tailed Godwits (from New Zealand) and even Great Knots (commonly found in Australia) at this spot.
Sunrise and sunset here would make for the prettiest of pictures – and migratory birds flying by? Perfection. You can even get a taste of the coastal cuisine in the little restaurants nearby. So come by the lake when the weather is kind and you want to plan a quick day's getaway with the squad. And don't forget your camera, of course!
Pro-Tip
Please don't get on the boat without a lifejacket, and make sure you go here during better weather days.