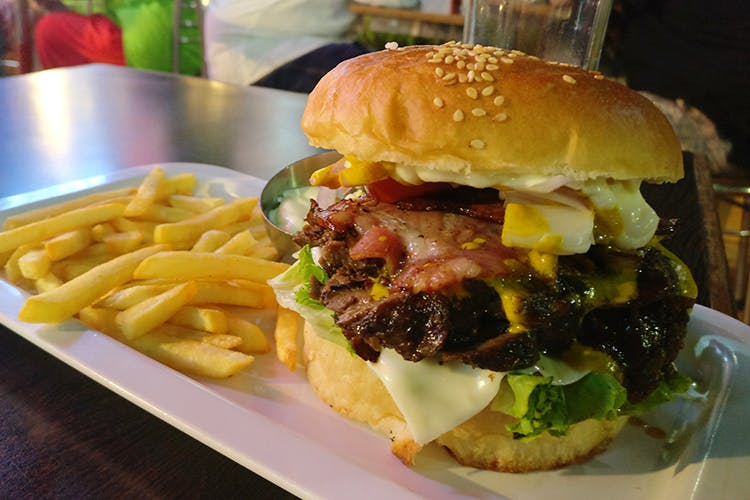 Have You Tried The Juicy Burgers At This Old School Eatery On Bessy Beach?
Shortcut
Pupil is an iconic burger joint that was, and is, the centerpiece of the Bessy beach stretch. If you like juicy, greasy, yummy burgers you've probably already heard of it. and if you haven't, where have you been?
What Makes It Awesome
Located in the prime stretch of the Bessy beach strip, Pupil is a fast food restaurant that almost every millennial who grew up this side of Mount Road has heard of. Known for their cheap and tasty burgers, Pupil is a popular spot for the folk that frequent the beach in the evenings. The reason they got this popular is because they were one of the few burger joints that sold meaty burgers with beef and bacon for reasonable rates. Their most popular burgers (and the burgers we love the most) are the Cowboy burger which has three beef patties in it and comes with a generous serving of fries and the Cuban which is a grilled beef burger with fried onions, bacon, and cheese. Vegetarians fret not, they have a veg steak burger that uses cottage cheese as a patty and it tastes amazing too.
Over the years people started coming to Pupil for more than just their burgers. Their starters like the chilli beef and gobi Manchurian are especially yummy. Their prices have risen a little bit over the years, but we still think their burgers are worth it. The space is pretty great too and is best enjoyed in the evenings when you can sit outside and feel the sea breeze. They have opened up an indoor section too, but that's only used when the weather is too hot or it's raining.
All in all, we think Pupil Besant Nagar is a good pick when you're searching for something quick and tasty, and need a reason to sit by the beach.
Comments