Stay At This Budget Romantic Riverside Getaway & Go On Boat Rides At Kerala's Beautiful Backwaters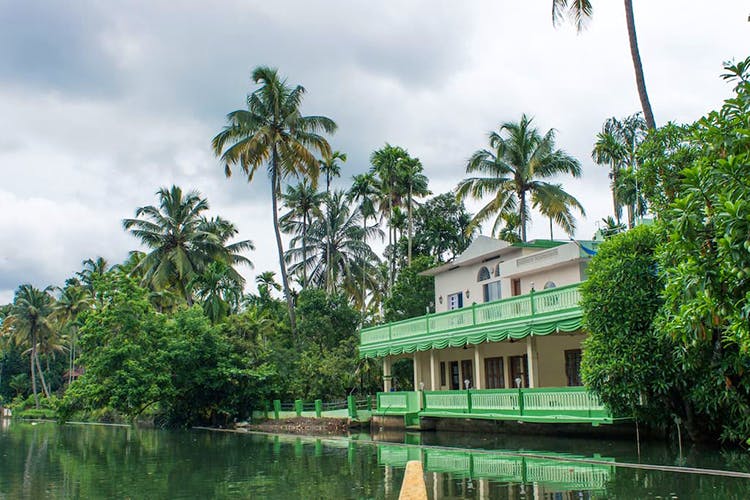 Shortcut
Take your SO and escape the crowds at this picturesque quiet riverside villa between Alleppey, Kochi and Kumarakom.
What Makes It Awesome
This Airbnb home is situated in Vadekkemuri in Thrissur district, less than a two-hour drive from Kochi. The star attraction of this riverside home is that it's isolated and hidden away, so you're really getting a chance to experience the backwaters as the locals would. Getting there isn't a hassle from Kochi as you can take a direct taxi or bus from there, with the latter being the cheapest option. The property is situated on the bank of a small canal, and by on the bank we mean, if you fall off the parapet you're in the canal.
Being so isolated you also get a chance to really see flora and fauna as they would be with minimal man-made constraints. Wake up to songbirds chirping and walk along the lush green fields on the banks of the canal. Perfect if you're on a romantic holiday. However, the fun doesn't stop there as you can rent a canoe to go exploring the backwaters by yourself! And even try fishing! All of these activities can be organised by the homeowners, who act as your makeshift guide.
The owners live in the same property and are couple-friendly, and are more than happy to accord you your privacy. The house itself is a two-storey bungalow, with a ground floor and a first floor, both with verandahs facing the canal. The room which you'll stay at is on the first floor and opens on to a balcony overlooking the canal. The view is stunning to say the least and the room isn't too bad either. The bedroom has plenty of windows, a double bed with fluffy white comforters and pillows, cute light fixtures and cool blue walls. Amenities wise, there's Wi-Fi, air-conditioning, a kitchenette, breakfast every day and most importantly a neat and tidy bathroom. Which is even more amazing when you find out that it costs just INR 2,500 per night (INR 1,250 per person)! Making this one of our favourite budget holiday picks. We recommend checking out this riverside paradise, if you're looking for a budget, couple kinda of getaway.

Comments