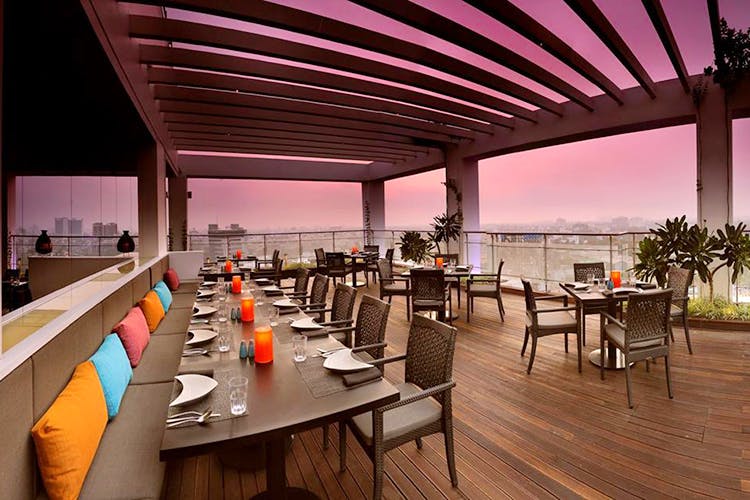 A Lot More Than Just A Stunning View, Check Out These Bars And Restaurants In Chennai For A Fancy Dine-In
The weather in Chennai is usually hot (AF!) but during those days when it's breezy during nights, we love to exploit! A glass of wine or a mocktail, the best of flared dresses and a candlelight overlooking a scenic beach, who wouldn't like to enjoy a plate outdoors? Namma Chennai has got its own share of rooftop dine-in places that you must check out. Read through our list of the best rooftop bars and restaurants in Chennai.
BOATS
Facing Elliot's Beach, BOATS (Based On A True Story) is one of the most popular spots in the city. During the weekends, you're going to find it hard to get a good spot, because it gets crowded pretty quickly, but it's still a pub you don't want to miss out on. It has a long list of DJs that show up every now and then to spin some of the latest tracks. They have some pretty cool offers too, including midweek offers to help you get through the rest of the week.
Price for two - INR 1700 (INR 195 for a pint of beer)
MASH Resto Cafe
MASH facing Elliot's beach has been around for a long time. It might be a small space, but it's got a lot of character. The best part is they have breakfast on the weekends, so you can enjoy a classic breakfast of eggs, grilled tomato, bread, and hash browns with a hot cup of coffee to wake you up. And even better is that you can have your eggs done up in all kinds of fancy and exciting ways, including something called 'The Chicken & Egg Race' which is a chicken masala omelette! All of this and a killer view!
Price for two - INR 800
Azzuri Bay
Azzuri Bay in Adyar may not have complete coverage for the rooftop section of the restaurant, but each table has its own sunshade umbrella and it still sets quite the romantic mood for the evening. On a day when it's not raining, the tables outside are perfect for that candlelit dinner with your better half. Their vast menu covering Pan-Asian, Italian and Mediterranean cuisine, including great soups to enjoy, makes it the place to be. A sip of the Cream of Broccoli soup and you will be heated upt ot even a battle!
Price for two - INR 1000
Up North, The Raintree
Do you know what really hits the spot during the rains? Comfort food. And Up North, in The Raintree, Anna Salai has a menu featuring all the dishes that take us back home. They have a "Dal Aur Chawal" (rice and dal) section and all you need from this is the Maah Di Kali Dal – it's made of black urad dal and rajma, garlic, ginger, red chillies and ghee and of course a portion of rice.
Price for two - INR 2500
Kefi, Taj Club House
One of the most popular and well known Mediterranean restaurants in the city, Kefi has both indoor and outdoor seating. Of course, if the rain is too heavy, sitting indoors might be the best decision, but on a cool and dry evening, enjoying the weather and the gorgeous view with fantastic food is always a good idea. And that's not all. If you make a reservation ahead of time, the staff will set up a romantic candlelit dinner for two. Don't forget to end your dinner with some baklava!
Price for two - INR 3000 (INR 350 for a pint of beer)
A2, The Park
Japanese food and rooftop dining sounds like a solid combination, doesn't it? Get comfy in A2 at The Park, because the food is to die for. A combination of familiar Japanese food and new creations are laid out to surprise you with every bite. Your focus may shift from the stunning view to the innovative plating, the music and the efficiency of the staff. They also have Sake and other great drinks to choose from. Ask one of the staff members to help you pair your food with your drinks, sit back and relax. To check out the best Japanese restaurants in town, click here.
Price for two - INR 2500 (INR 350 for a pint of beer)
Asvah 24
Cosy date with a sea view, Asvah 24 in Neelankarai aces the game. Apart from the Sri Lankan interiors of the place, they put the French in their cuisine. From pork ribs to beef tacos, they have a menu for you to drool on. As you hear the crash of waves in the distance and the slow music in the background, you and bae can enjoy sipping on some mocktails or sharing a kaffir lime pannacotta.
Price for two - INR 1700
Q Bar - Hilton Chennai
Lean back on the comfort couch under your private shades at Q Bar in Hilton, Guindy! Overlooking the Chennai skyline, you can dine under the star while sipping on those fancy cocktails. You can order some Shawarma or maligai bhajji to go with your martinis as well. It tastes....different! They have professional DJs as well as a dance floor for you to groove on. Your cabana, a glass and some grills, it is the night to look forward to.
Price for two - INR 2000 (INR 500 for a pint of beer)
Rajputana
Located in Koyembedu, Rajputana in JP Hotel is just like its name suggests, a place for royalty. They have both indoor as well as outdoor seating. You can take a place directly under the sky or choose to sit in a private wooden shade as well. The wooden decor gives it a rustic ambience. They excel in making some delicious Mughlai and North Indian cuisine. You can pair up Murgh Malai Kebab Lucknowi with Thandai or have a glass of beer to cool you down. To know more places to get the best of North Indian cuisine, click here.
Price for two - INR 1500 (INR 150 for a pint of beer)
La Cabana
Located in Nungambakkam, La Cabana will give you relationship goals. Swimming pool, private seating with curtain, a city view along with some delicious bites this place will make your romance night. They excel in some buttery grills and kebabs that you must check out. A customer favourite is their paneer malai tikka and what better to go with a glass of cosmopolitan! They have some fancy imported beer as well.
Price for two - INR 1500 (INR 220 for a pint of beer)
Board Walk - Ramada
Interactive live kitchen, city view, indoor seating with glass windows and ceiling and saucy grills, what hasn't this place got? Located in Egmore, Board Walk in Ramada has some beachy cocktails that you cannot ignore. From daiquiris to long island iced teas, this place is rocking the drink fans. To top it off, they have sheesha as well! You must try their ras malai while you are there as well.
Price for two - INR 1650 (INR 239 for a pint of beer)
Comments