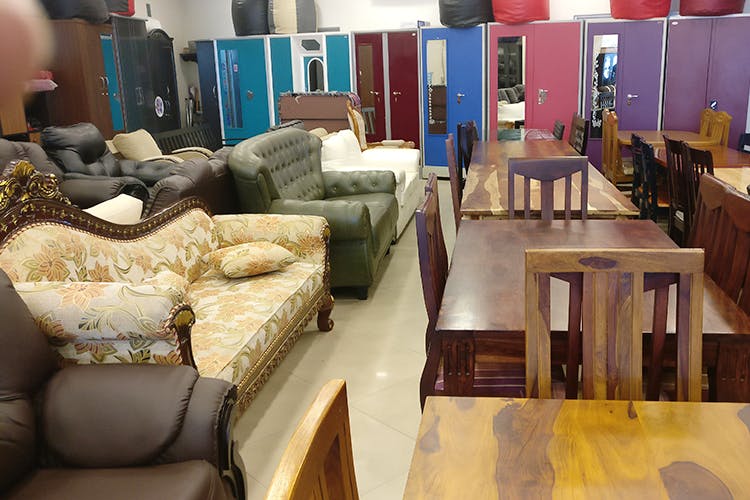 Just Moved To Chennai? Head To This Furniture Street In Royapettah For Budget Deals
Shortcut
Just moved in and in need of affordable furniture? Head to Royapettah High Road for all your home fitting and furnishing needs.
What Makes It Awesome
Royapettah High Road is Chennai's furniture hub. From home delivery to options across budgets, there's a perfect furniture shop for everyone here. Folks looking for affordable furniture need to take one quick walk down the street to check out all of the options available to them.
In particular, we recommend Sri Sakthi Furniture, thanks to their very affordable prices and an impressive selection of furniture. They've got cots, tables, chairs, mattresses, pillows and desks, all made out of separate materials like glass, plastic, and wood. Single beds start at INR 7,500, with additional add-ons like mattresses for INR 3,000 and storage space for extra INR 4,000. Though we'd recommend purchasing a double bed as it's just INR 2,000 more. Dining table sets start at INR 1,800 (plastic) and can go up to INR 18,000 for their teak counterparts. Which is honestly quite moderately priced. Chairs, too follow suit, with offers starting from INR 1,800. The best part about small stores like Sri Sakthi is that they're all open to haggling, so you could walk out of their store with a steal of a deal if you're clever enough.
If budget furniture is too plebian for you, there's slightly better to do stores like Galaxy Furniture that cater to more refined tastes. Cots at Galaxy furniture start at INR 18,000 and can go up to a lakh. Sofas too can be purchased for a starting price of INR 14,000. While prices can vary greatly, all the stores provide home delivery, a warranty period and paid service for any servicing needs that don't get fixed by the warranty. So rest assured, you're not going to buy a chair that falls apart the minute you sit on it at home.
A word for the wise, be sure to explore all the budget furniture shops along Royapettah High Road before you make your purchase as you can be surprised at how low some of the prices can go.
Comments