Chennai's Only Air Conditioned Indoor Sporting Facility Offers Badminton To Basketball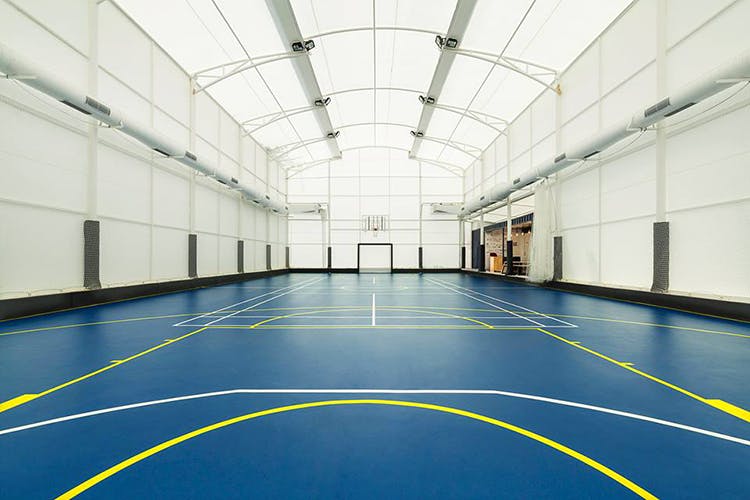 Shortcut
This indoor sports facility has the city's only air conditioned play arena and is right here in RA Puram.
What Makes It Awesome
Rush Madras in R A Puram is a popular sporting facility for badminton, basketball, and futsal. The synthetic blue flooring used is the same surface used by premier futsal grounds around the world. Quite unlike the common turf football fields, we see cropping up. For this kind of surface you're better off with special futsal/basketball shoes, even regular trainers work just fine. They've got in house shoes as well in case you've forgotten yours, but they're a little old and worn out, so don't expect a good fit.
The biggest appeal comes from the fact that it is centrally air-conditioned, so say bye bye to having to worry about it being too hot to play. The top of the arena has glass windows so there's plenty of natural light during the day, at nights they've got floodlights, so you can play up to 10pm. They also provide equipment, like nets, baskets, racquets, shuttles, balls, and cones.
Amenities wise, there are clean bathrooms with showers and mineral water dispensers, lockers, ample car parking space, and Wi-Fi! Similar to other such sporting facilities, Rush's rates can vary during the week, with weekends costing much more than weekdays. Rates for an hour of basketball can start at INR 2,500 per hour (for groups) during the week and go up to INR 3,500 per hour during the weekends. Badminton is a little cheaper with their max weekend rate being INR 3,000 per hour. In fact, badminton lovers are in for a treat, badminton is the only sport that is available at their facility 24 hours/day! So from 11pm to 5am an hour of badminton is much lower INR 1,500 per hour.
Rush is a more costly option for football players, as compared to some of the other facilities in the city. But the other sports you can play, the range of amenities and location make it a worthwhile choice, especially if you live in the south half of Chennai.
What Could Be Better
They've also got a long viewing gallery protected by thick netting, where you can sit and watch the game. We just wish it was on a floor above as it can be a little hard to spectate when sitting at eye level, kinda like how Tiki Taka in T-Nagar is.

Comments (0)