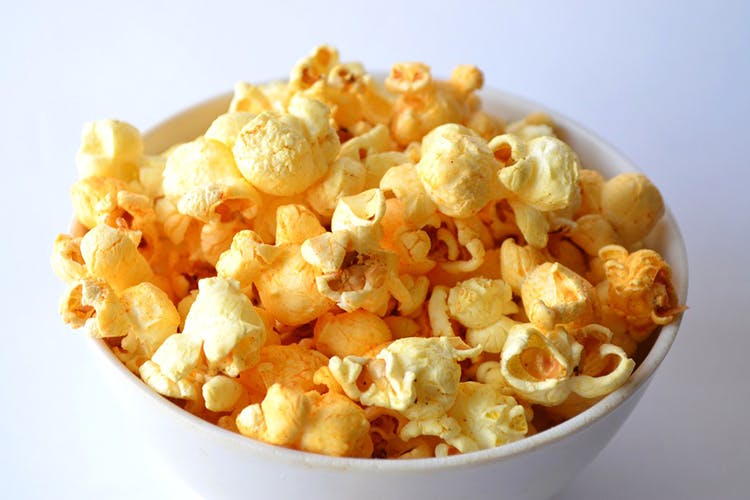 Chennai Folks, This App Delivers The Iconic Sathyam Cinema Popcorn To Your Doorstep
Shortcut
Yes, it's the very same tub of popcorn that every Chennai movie goer swear by. Movie nights at home are going to be a lot more fun thanks to the Genie app.
In Popcorn We Sathyam
There have been days when we have gone overboard with the Mexican Cheese seasoning or death stared the guy at the counter into putting extra, extra, extra butter. We have even gone the extra mile of ordering extra tubs and taking them home. Call us crazy, but we know that you completely agree with all our sentiments related to the Sathyam cinema popcorn that has made sitting through a bad movie pleasantly good, blockbusters smashing, and dates extra corny.
Well, it seems like the folks at Genie, the hyperlocal delivery app, have found a way to make our match days, movie nights or a Netflix binge-a-thon lit by bringing Sathyam popcorn to our doorsteps. Oh yes, through the app, you can order happiness in the form of tubs of buttery popcorns. The "greatest popcorn there is" will be delivered to exactly the way you want it. Want Mexican Cheese and Sour Cream Onion seasoning in copious amount, just tell these guys, and they'll do it. Oh, and in case you like the caramel popcorn, they do that as well.
Your Wish Is Their Command
For folks who are not familiar with Genie, they are a pick up and drop service that helps you get work done across the city. For instance, if you forgot your mobile charger at Adyar, you can Genie it to your office in Thiruvanmiyur. It's as simple as that. Anything from delivering documents to getting cakes for your friend's birthday can be delivered or picked up by these guys. So cool, right?
You can download the Android version here and iOS version here.
Comments