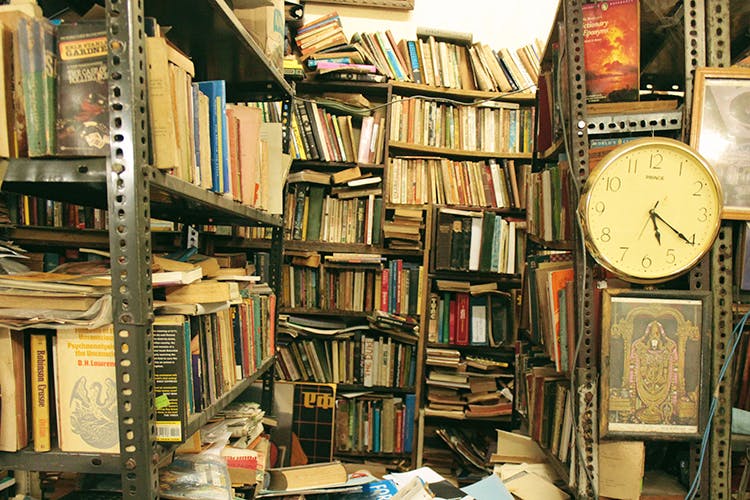 Enjoy The Fine Company Of Old Books At These Second Hand Bookstores In Chennai
It is unlikely that there is anything that brings more joy to a bibliophile than the crumbling, yellowing pages and the unmistakable scent of a book already held, read and cherished. There is little more thrilling than holding a 1940s edition of a book one grew up loving, and nothing more goosebump-inducing than the sight of a name and date scrawled across the front page in now-fading ink. Second-hand bookstores are a treasure trove of stories, journeys, and lives of books that have seen wars, calamities, travels and multiple homes, and here's a list to help you plunge into the past. And if you must refrain from being a romantic yearning for the bygone, there are also copies of newer –even very recently published – books being sold for a song.
Moore Market
One of Chennai's landmarks, Moore Market, located a short distance away from the bustle and noise of the iconic Central Station, has long been a destination for buyers of used books. In its many shops lie scores of books spanning various genres — fiction, non-fiction, science, geography, literature, and economics. Copies of classics and contemporary bestsellers by western and Indian writers line the shelves, but it is Moore Market's collection of academic reference books — old, new and rare — that is its main draw. Booksellers stock most textbooks (at school and college levels) in disciplines from biochemistry to computer science, and also sell question banks and guides for comprehensive exams. The sellers are efficient and know their stock, and even help source a book especially for you. Prices aren't fixed, so everyone bargains.
Rare Books
An unassuming garage in RA Puram houses a gold mine of the printed word; nestled in an old, quiet apartment block, Rare Books, evokes in one aching nostalgia for all things past with its old books, unhurried pace, and an elderly proprietor whose knowledge of especially infectious enthusiasm about his collection evokes awe. In the musty room, with its cold stone floor, numerous bursting boxes and overstuffed bookshelves lies a valuable cache of first editions (including the very first editions of the Penguin series), books long out of print, Tamil literature now seldom read, front pages of newspapers from the 1930s, National Geographic, Modern Review and Illustrated Weekly magazines from the early half of the century, and a well-preserved set of illustrations by political cartoonists including his favourite, RK Laxman. He prides himself on his vast collection of vintage advertisements and posters too.
W+ H Book Search
Another such bookstore, which was, incidentally, born using the foundation of a large collection of Rare Books' books and later expanded, is the W+H Book Search in Anna Nagar. Apart from books and encyclopedia on wildlife, history, literature, etc., the place is filled with rare copies arranged thematically. Amidst vintage-style telephone apparatuses and old worldly clocks, one finds the books that hold pride of place for the owner: books about Madras and a large collection of maps. Those curious to know of the history of the city would be particularly intrigued and amused by cartographic records from the early 50s depicting a city that has changed dramatically since.
Berkshire Books
Berkshire Bookstore in Nungambakkam is a must-visit for its neatly arranged, thematically organised sections. The collection ranges from BBC travel books to coffee table books on everything under the sun, modern fiction of critical acclaim, chick-lit, classic crime novels, and quite enough for the Sidney Sheldon, Danielle Steel or John Grisham fans. Book topics range from as diverse as animals, natural history and golf to knitting, gardening and yoga. The colourful shelves filled with children's books are particularly attractive, and stock a gamut of old and new storybooks, comics and magazines, and various encyclopedias. The books are in excellent condition and sold by weight – one kilogram costs INR 250 – and the stock is replenished regularly.
Comments