The information in this post might be outdated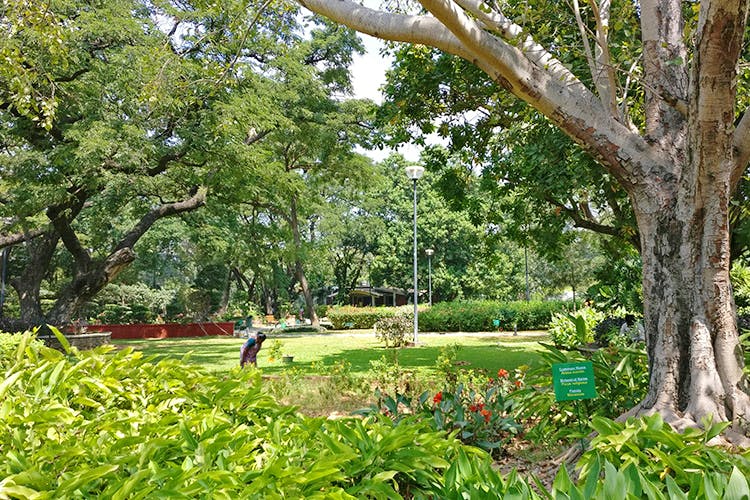 Walk, Play Or Just Soak Up The Sun At This Lung Space Right In The Heart Of The City
What Makes It Awesome
Quite literally a breath of fresh air, the Semmozhi Poonga Botanical Garden on Cathedral Road is ideal for a family day out where kids can play in the park while you walk among over 500 species of plants. Set up in 2010 by the horticultural department of the government of Tamil Nadu, the idea behind the park was to create a lung space in the city for people to enjoy, without having to travel too far. And what a green space it is! Tons of money has been spent on importing exotic species of plants and the park currently has more than 500 species of plants.
In fact, green thumbs can rejoice at the effort they've put in to cataloguing each of the species and placing placards with their scientific names next to them. There's tall trees, small groves, lush vines, exotic flowers like orchids, green lawns and even ponds! But most importantly, there's plenty of shade and no annoying "Don't walk on the grass signs". The park's most common visitors are young couples and families, which makes sense because the pretty walkways, chirping birds, and overall calm is inviting, and there's plenty of nice places to take photos. Semmozhi Poongat is also great for a walk or a run in the morning, or for a post-work de-stressing stroll when the sun is setting.
Ticket prices are fairly nominal with an adult ticket costing about INR 15. There is a small INR 25 fee for carrying a professional camera. If a picnic is what you're thinking, be advised that you're not allowed to bring outside food/drink into the park. There is, however, a small food court inside the park that you can eat at or buy food from. Kids have their own playground with swings, slides, scaffolding to climb on and a sandpit to play in. What we liked most about Semmozhi Poonga was that the plants are maintained well and that it was clean. A proper usable government park in the middle of the city is a rarity, and we're lucky to have it.
If parks and gardens are your things, be sure to also check out the Chetpet Lake Eco Park. More about that here.
Comments