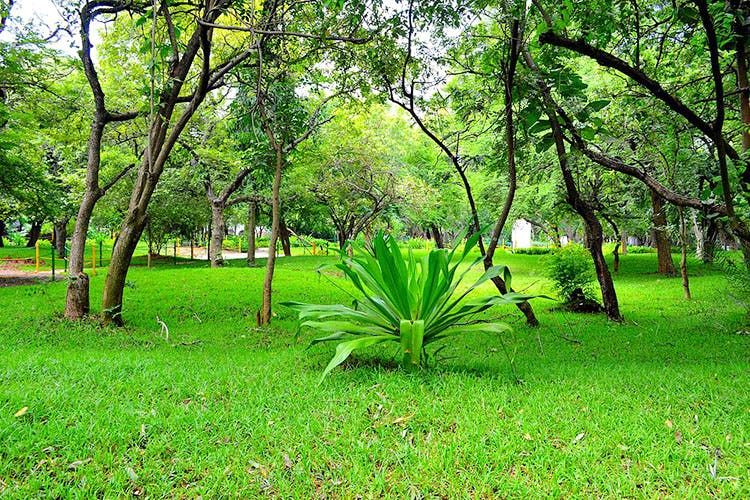 These 7 Chennai Experiences Under INR 50 Will Make You Love Your City More
Chennai can be enjoyed at any budget and to prove that to you, we came up with a list of seven amazing experiences in Chennai that you can enjoy under INR 50 only. We've left out the beach on this list because it's something we're sure everyone's done already.
Marina Lighthouse
Capture a stunning view of the entire city as you zoom up the elevator to the topmost floor in the city. A ticket costs just INR 20, which is honestly peanuts for the view you'll see. For more about the lighthouse read here. For peanuts, just walk North 100 ft towards Marina Beach and you'll find the nearest vendor.
The Birla Planetarium
The Birla Planetarium, a part of the Periyar Science & Technology Center, has been around for three decades and is the best value for money entry on this list. For just INR 30, you'll be able to see the stars through its numerous exhibits, add INR 20 and you'll be able to sit through a virtual reality experience in the stars. The dome-shaped ceiling in the planetarium is a massive screen and plays programmes about the celestial phenomenon. For more on the awesome planetarium, click here.
Guindy National Park & The Chennai Snake Park
These two treasures are located next to the Raj Bhavan in the massive forest that leads up to IIT. The Snake Park is the first reptile park in the country and offers a chance to see snakes and crocodiles up close and safely, while also teaching you about them. The Guindy National Park which shares the compound with the Snake Park, is part zoo, part wildlife sanctuary, part park! There are elephants to see, monkeys to chase and deer to spot (black bucks are there too, for you wildlife enthusiasts). The best part is that tickets to both places will cost you a maximum of INR 50.
National Parks & Wildlife Sanctuaries
Government Museum
The oldest of all the entries on this list, the Government Museum is actually a collection of tinier museums, libraries and halls. The tiny museums are actually not so tiny with their Natural History Museum requiring a good four hours for a thorough viewing. There's even a cool animatronic Tyranosaurus Rex that moves and roars. There's plenty more at the Government Museum and for INR 15 you can experience it all. For more on the Government Museum, read our feature here.
Semmozhi Poonga Botanical Park
Located on Anna Salai, this lush park is arguably one of the best places to take a walk in the city. There's 500 different varieties of plants, from big trees to slender vines, and like every park there's plenty of shaded space to sit and relax. In fact, more than sitting around, a walk around the campus won't take you more than 30 minutes, and will see you through elaborate gardens, lawns and brooks. Ticket prices are INR 15. For more on this park, click here.
Vandalur Zoo
The country's first public zoo houses its enclosures that let you drive in and explore! The lion enclosure is 74 acres big and you'll get to see the pride of lions from their comfortable spot. There's an elephant safari too, where you can ride an elephant and plenty of birds to look at as well. The whole zoo is a day's worth of adventure and costs INR 50 for an adult and INR 20 for a child.
National Parks & Wildlife Sanctuaries
Street Food
Chennai is home to some of the best street food in the country and in places like Sowcarpet and Mylapore you'll find kitchens older than our parents. Rose milk at the Kalathi Newsmart in Mylapore or Atho Noodles in Burma Bazaar are amazing examples of super tasty and super cheap foods that you can find in Chennai. Fortunately for you, we've been eating our way around town and have found a bunch of iconic street food places in Chennai that you're sure to love. Click here, here and here.
Comments