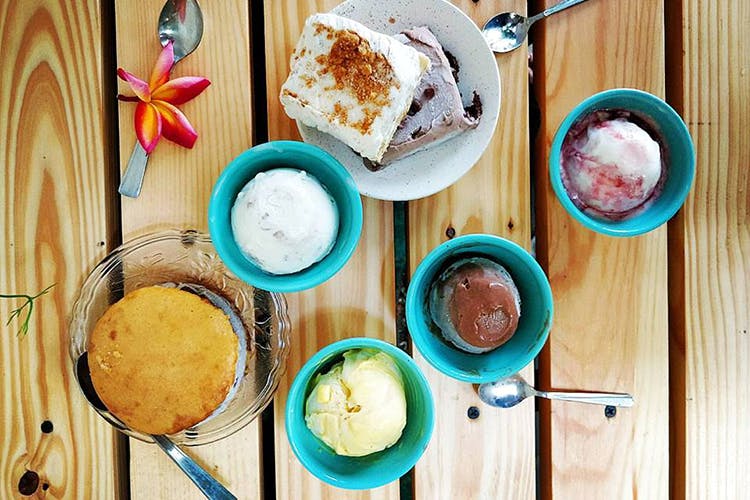 Buttered Walnut Candy & Chai Spicecream: Hit Up This Ice Cream Shop In Egmore
Shortcut
Shmoozies is the perfect place for fresh, handmade ice creams in delightful flavour combinations with no additives. Get them delivered at home or work, or visit their cute space in Egmore.
What Makes It Awesome
Walk down a long driveway lined with lush vegetation into a handsome property that has been home to many generations, and you'll arrive at a little picket fence and wicket gate with a turquoise board announcing Shmoozies. The artisanal ice cream shop. Shmoozies, which has been in the business of creating, customising and selling handmade ice creams for over a year, opened its little walk-in space a few months ago. With its wooden-framed windows, assorted recycled pieces of furniture, a collection of magazines and board games, and fun, quirky décor, the space is certain to afford you a delightful hour or two as you sample the fare on offer.
They offer 20 seasonal flavours – including mango, guava and other fresh fruit (a spoonful of the guava blush is like biting into lush, ripe newly-plucked fruit). Canned berries and other preserved fruit are totally avoided. Shmoozies' USP is in the fact that no artificial flavour or preservatives are added to the ice creams, and flavour is the first priority.
The shop does nearly 10-15 kinds of flavours daily. The Coffee Cinnamon and Roasted Almond is made from fresh-brewed filter coffee and the Backyard Mint Refresher comprises fresh mint leaves and lemon. A popular flavour is the Banoffee Pie Cream, with home cooked toffee blended with banana and crunchy digestives. Newer flavours include Salted Caramel and Peanut Butter and Chocolate.
If you like experimenting, do try the Buttered Walnut Candy and the crunchy texture of the Butterscotch Almond Brittle, and for the chocolate loyalist, there's the Callebaut Belgian Chocolate. The Chai Spicecream though is a personal favourite; think rainy days and hot, masala chai with cardamom, ginger, and cloves… except you're consuming it in it's frozen, churned avatar!
More Information
Shmoozie's Hand-Crafted Ice Creams
Comments