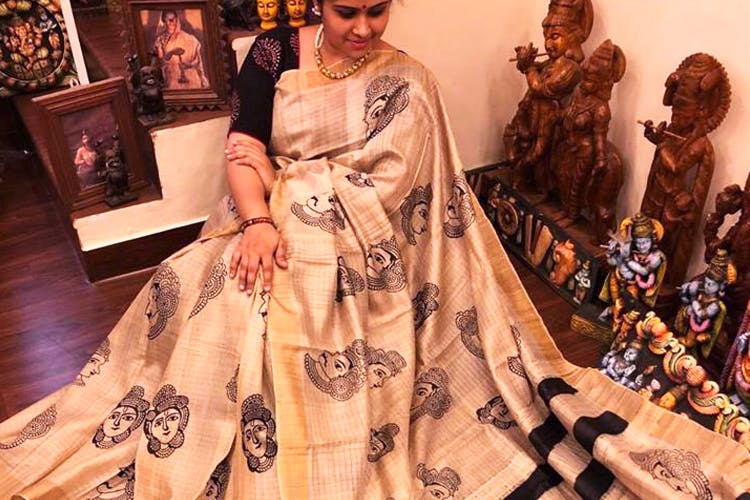 This Chennai Brand Can Customise Kalamkari Prints On Cotton, Silk & Any Kind Of Saree
Shortcut
Shru's Eternity is a handloom store in Kodambakkam, which specialises in Kalamakari everything. From sarees to blouses and kurtas to tops, you will find everything in Kalamkari, and they customise too.
The Whole Nine Yards
Shru's Eternity started initially as a handloom saree brand that stocked up on only a few pieces at a time. But they noticed that Kalamkari prints were becoming a bit repetitive, and decided to put together a team of artisans who could actually replicate hand drawn patterns and designs on sarees! How cool is that! You can get a customised handloom Kalamkari print done on fabrics like pure silk, tussar and tissue. So, basically the saree you wear will truly be a one of a kind.
They brand also stocks about 500-600 ready sarees at any point at their store which you can browse through. Their sarees range from casual to dressy. So you can pick a handloom cotton saree for work, a silk cotton saree for a formal event and a silk cotton saree with Banarasi motifs for a wedding! Their bestsellers include the raw silk Kalamkari and the unique Kalamkari hand embroidery with precious stones and sequins on blouses and sarees both.
Designs On You
They undertake orders for kurtas, tops and blouses too, which can also have the proprietary hand printed Kalamkari or appliqué designs. We found their prices to be quite affordable too.
Price: Sarees: INR 2,500 upwards, blouses: INR 2,500 upwards, kurtas & tops: INR 900 upwards.
Find them on Facebook here.
Comments