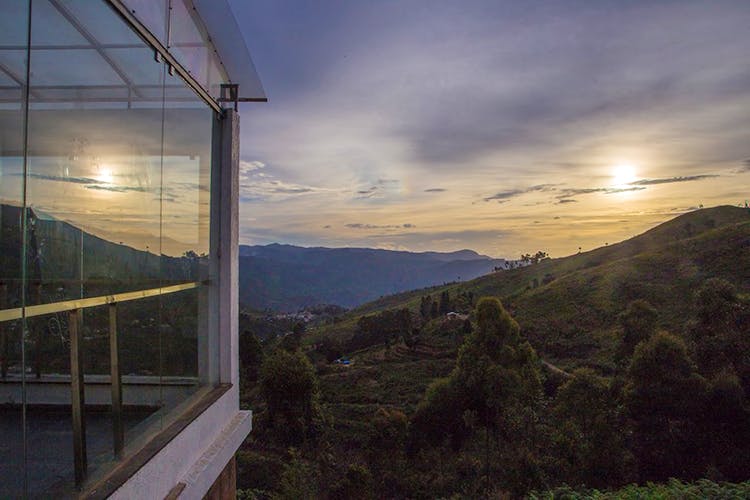 This Gorgeous Bungalow In Kodai Is Winning For Its Killer Views & Modern Interiors
Shortcut
This ultra-modern Airbnb bungalow in Kodaikanal is the best place you can go to this summer to beat the sweltering heat.
What Makes It Awesome
Tucked away in the hills of Kodaikanal, this fancy bungalow is one of the best Airbnbs to stay at. The property is situated 6.5km from the heart of Kodai, thus you'll be cut off from the noise and crowds this summer. Access to the property is only by private transport as public transport is banned in the area, so do plan accordingly. The property has four bedrooms (with attached bathrooms) and can house at least 15 people comfortably with the beds and mattresses it has. During the day there is an abundance of natural light thanks to the covered glass observatory on the top floor and the massive balcony just next to it.
The interiors have plenty of sharp lines and warm colours that make it feel classy yet welcoming. We like that the property is spacious and even if you're there with a large group, you won't feel cramped. In fact, the highlight of the stay here is the view from the top floor balcony as it overlooks the valley below. A view best enjoyed with one's morning coffee. Speaking of beverages, the owner is okay with drinking on the premises, provided you keep noise to a minimum. The owner himself lives offsite and you're pretty much left to your own devices save for their housekeeper (who will make your complimentary breakfasts and dinners). Expect homely hill food like thick aloo parathas with pickle and hot teas!
Amenities wise they have Wi-Fi, flat screen TVs in most of the bedrooms, clean modern toilets, hot water, and all that you could want, however, the idea behind staying at a bungalow like this is that you feel cut off from the digital world. So to help with that you'll be pleased (or sad) to hear that network connectivity isn't the best, save for Jio and BSNL users. For a property like this in Kodaikanal, one would expect to pay top dollar, however because of its location on the outskirts of the hill-station, prices for one night start at INR 3,500 per night (at the time of this publication, prices may vary). We recommend coming to this property with a group of at least four as prices for each person will drop to a measly INR 1,000 per night, and couples do note that it's couple friendly! So if you're looking for a quiet cool weekend away from the city, head here.
Comments