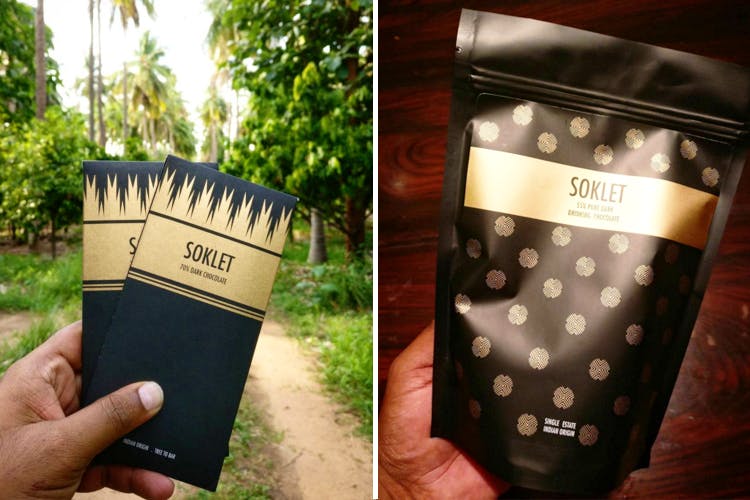 India's First Tree-To-Bar Chocolate Is Made Right Here In Tamil Nadu
Shortcut
Talk about home-grown chocolates!  Meet Soklet, the brand of chocolates that comes from Tamil Nadu's very own cacao plantation in Anamalai Hills.
What Makes It Awesome
When most chocolate companies boast about producing chocolate from 'bean-to-bar', Regal Chocolates the mother company of Soklet is going a step further with 'tree to bar' chocolates which simply means that they're not just sourcing the cacao beans and producing them into chocolate — they have their own plantation in the Anaimalai foothills with cacao trees that help with producing their chocolate bars.
Grown along with nutmeg, coconut, pepper, and banana, the flavour and scents add to the cacao which is then used for the chocolate, giving it the same flavours. Along with this feature, the plantation is pesticide free and using principles of aquaculture (cultivating freshwater and saltwater populations under controlled conditions) and permaculture, the trees get the right nutrition to produce the best cacao apparently.
A little science lesson here, guys. The cacao has to go through a long process of fermentation which allows it to pulp up, change colour, develop stronger flavours and become more usable for chocolate making purposes. After the fermentation process, the beans are slowly dried to get rid of mould and unwanted critters, and following this, the beans are hand sorted to separate the best from the defective beans. These beans are then packed and sent to chocolate makers to produce new chocolate bars.
Their chocolates are free of vegetable oils, they have no artificial flavours, no chemicals, and preservatives and more importantly, because it's non-alkalised, the natural levels of anti-oxidants are retained, making it of the highest quality and full of flavonoids. And their range is available to home bakers, chefs, and chocolatiers around the country. The bars come in 460 grams packs and are available in Dark and Milk chocolate. Within that, there are three types as well, because how can you not have all the versions of chocolate available to you for baking and cooking?
Dark Chocolate is available in 57 percent Dark Chocolate with natural vanilla, 70 percent Dark Chocolate, which has the earthy notes of red fruit and 100 percent Dark Chocolate, unsweetened and perfect for large productions of chocolate. Milk Chocolate is available in 55 percent Dark Milk Chocolate, which has fruity notes, 40 percent Milk Chocolate, the traditional milk chocolate as you know it and 32 percent Blonde Milk Chocolate, it's almost white in colour, but there are hints of cacao.