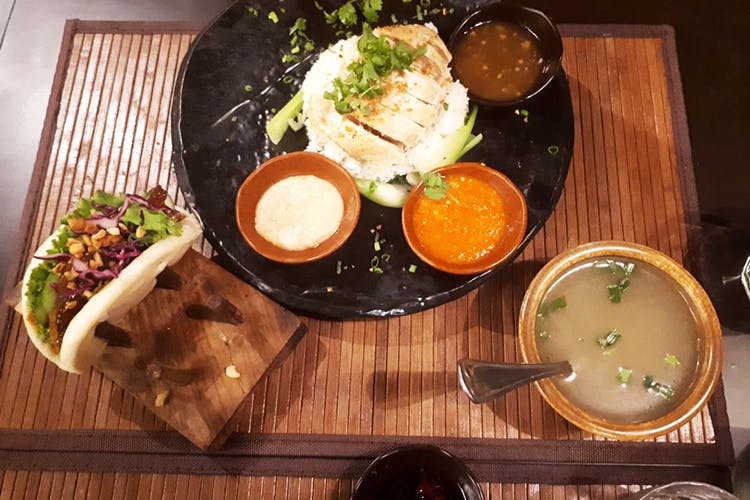 Pulled Duck Bao Tacos Or Sticky Rice: Have You Been To This New Asian Restaurant Yet?
Shortcut
Soy Soi in Kotturpuram is serving authentic Asian street food and it's simply delish.

What Makes It Awesome
Soy Soi in Kotturpuram is serving authentic Asian street food; they've recreated authentic dishes from Thailand, Indonesia, Malaysia, Vietnam, Burma, and Singapore and looks pretty with red tones and cozy interiors. We had studied the menu thoroughly before heading there and so quickly started off with the dim sums. Vegetarians can opt for the Crystal Vegetable Dumplings (translucent dumplings with water chestnut, Shiitake mushrooms, carrots, and Edamame beans) and for meat eaters there's the option of Prawn and Scallops Suimai (open steamed dumplings with prawns and scallops in a paper thin wonton wrapper and flying fish roe). We totally went bao wow over their "tacos" which come in varieties such as Pulled Duck Bao Taco and others with prawn fitters, beef and even jackfruit.
They also have satays, salads and soups, and also small and large plates on offer. We were eyeing the Singapore Seafood Laksa, Malay Chicken Curry Puffs, Burmese Beef Scotch Eggs and Pla Neung Manao (steamed whole fish in a broth of lemongrass and basil) and totally loved it.
And what do we say about the dessert? Simple and light Sticky Rice with Thai Mangoes and their Thai Jellied Water Chestnut were just super refreshing. But The Soy Soi sphere, a chef recommendation that has Butterscotch and nougat ice cream enclosed in a chocolate sphere with Oreo and cookie crumbles and is melted over the table with dark chocolate sauce is the real deal (you'll want to take your phones out for this one!). Oh, and they even serve hot or cold Vietnamese coffee, which is also worth giving a shot. We totally loved the overall dining experience and can't wait to go there again. What about you?