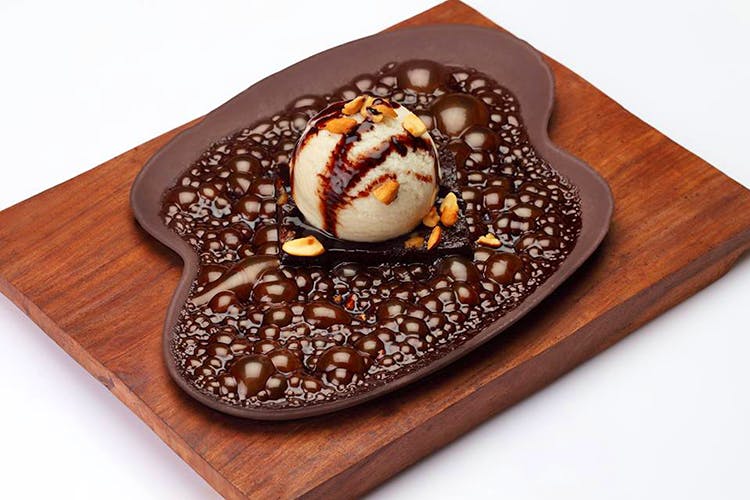 Here Are Five Really Delicious Reasons Why You Must Make It To Cream Centre
At 60 years old, Cream Centre is one of Chennai's oldest and most celebrated vegetarian restaurants. They specialize in creamy and cheesy preparations and over the years have tweaked recipes of staple dishes to give it their own twist. These specials are super popular, and a must try, so without further ado, here are top five must-try dishes at Cream Centre.
World's Best Nachos
Nachos are known for being a good dish to share with friends. The way they make it at Cream Centre you better bring your friends because it is big! Not only is it big, but it's also drenched with cheese and tons of beans, so you're never going to have to eat the last bit of nachos plain and dry. Big enough for a family of four, this plate of nachos is filled with flavour as it comes with bell peppers, black olives, jalapenos and their own signature nacho sauce with sour cream and cheese.
Onion Rings
One of the less talked about specials at Cream Centre, the Onion Rings are a must try. Served to you in one big stack, these fried circles of heaven are crunchy and filling, especially when there's 12 of them! They make for great finger food and are ideal for large groups. Also because they're super quick to make you can always get more quickly if you run out.
Paneer Ka Baap
With a name like that you're bound to expect something crazy and that's what this is; a platter of original paneer tikka, hariyali paneer tikka, kali mirch paneer tikka and a side of tandoori salad. The paneer is marinated in advance and the flavours really come out as you take a bite. The paneer they use is soft malai paneer and quite unlike paneer found in most other restaurants in Chennai. It's also always freshly prepared and the sauces are made fresh every day. We especially liked the hariyali paneer tikka.
Italian Baked Sizzler
Yes we know, we're talking about a vegetarian sizzler in a vegetarian restaurant, if your non-vegetarian stomach can handle that for a second, we'll tell you why it's awesome. A plate of fresh cut and just grilled vegetables, a side of parmesan cream baby potatoes, sautéed onions, spaghetti in Italian tomato sauce, macaroni in their signature smoked red bell pepper sauce topped with an American corn patty is what they serve. In addition to being a mouthful to say, it's more than a mouthful to eat. The sauces that they use, the freshness of the ingredients and quantity of food are what make it stand out.
Sizzling Brownie
If you haven't been able to sate your sizzler cravings yet, get their sizzling brownie. They use their own brownies, serve it with a scoop of vanilla ice cream on a bed of hot chocolate fudge sauce sprinkled with nuts on their sizzling plates. You'll see it coming a mile away as it sizzles and crackles towards you. Taste-wise, it's a sugar overload with the combination of a super hot brownie and a super cold ice cream coming together to form a chocolatey mess, and honestly, we can't think of a better way to end a meal this decadent.