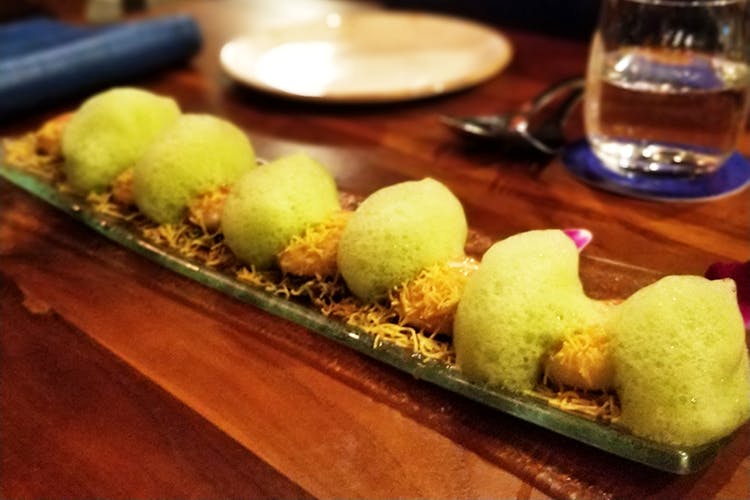 Coriander Foam and Deconstructed Dhoklas: Here's Why Spice Klub Is An Experience
Shortcut
From mango juice frozen at -196 degrees and coriander foam that bursts in your mouth to edible bags of khati chutney, Spice Klub in Nungambakkam gets 100 points for presentation!
What Makes It Awesome
Expect to eat Indian food with a molecular twist at Spice Klub, a restaurant well-known for its molecular gastronomy. We tried Paapdi Chaat, finished with coriander foam that bursts in your mouth! Their Vada Paav platter priced at INR 465 comes with nine tiny breads, green and sweet chutney, boondhi, and little plastic bags of garlic powder (khaati chutney) that are edible. You assemble them (chutneys and garlic powder in between the bread) and eat it with the plastic!
The paav bhaji fondue is a must-have, especially if you want a break from all the dazzle. The Palak Cheese Cigars at INR 365 with melted cheese and spinach are all kinds of yum. For the main course, you can get cheese garlic naan and any of their side dishes, they all have mellow flavours and we love that. You could also try the Spice Express Meal for INR 399 which has appetisers, Indian breads, dal, and rice.
Their signature dessert, Mango On The Rocks is mango juice frozen at -196 degrees, crushed and served. If you love some sweet and spice in your drink, go for the Kokum Margherita with Chilli Caviar priced at INR 250. Once you take a bite, it'll feel like it's super spicy but becomes sweet within seconds. Oh, and there are tiny green bubbles in this drink which break like little balls of ice in your mouth and in a few seconds have a jelly-like flavour. It left us with mixed feelings, literally!

Pro-Tip
Don't forget to try their complimentary sauces including chundo, garlic and curd, radish and curd, and more!
Ask Aasha a question