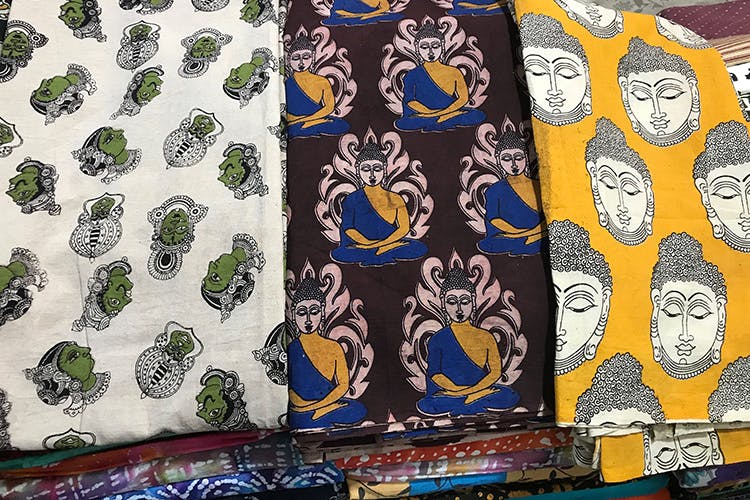 Quirky Kalamkari, Pochampally & Cat Prints At Just INR 130 Per Metre In Besant Nagar
Shortcut
Get lost in reams of fabric at SS Fashions in Besant Nagar, because you're going to have a tough time picking from this huge selection of cotton prints, and other traditional textiles. Plus, everything starts at INR 130 per metre.
What Makes It Awesome
Located right below Spring Boots in Besant Nagar is this tiny shop that boasts of a great collection of fabric for all occasions and age groups. Yes, for the ones who crave for a bit of Pantheon Road closer to home (if you live in Adyar, Bessy or Thiruvanmiyur), SS fashions has got you covered.
And it's not just traditional textiles you will find here. In fact, your hunt for quirky designs might just end here. Pick from gorgeous Kalamkari fabric at just INR 130 per metre. Having spent some time hunting for these in several other shops in this locality, we must say the annas here showed us a rather unique collection and we were hooked! But what did we find? Not just the common face print Kalamkari fabric, but make sure you have a look at their Buddha and Kathakali and other fun prints available in a range of colours. Their Pochampally ikat fabrics start at INR 145 per metre, and you know how trendy but timeless ikat is, so you have stocked up on these. The stall also has other pretty ikats, soft and simple cotton fabrics — some even with cute cat prints on them. The most expensive fabric at this budget-friendly shop are their Curtain Screens, starting at INR 210.
Fashion design students, especially budding designers from NIFT, you could grab your project fabric too at this textile haven. And don't forget to bargain, bargain and bargain! Especially if you're picking up more than one kind of fabric. Don't worry, the annas will mostly give you a good deal. On insisting for more designs than the ones on display, you could even get a glimpse of their godown filled with more colourful and beautiful looking fabrics.
Comments