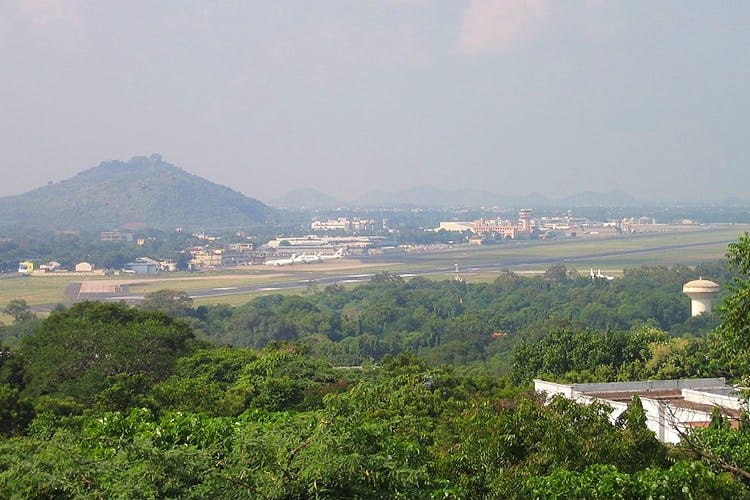 You Can Get The Best Panoramic View Of The City From This Spot & We'll Tell You Exactly Where
Shortcut
Catch a panoramic view of the city as your fingertips graze passing planes atop St Thomas Mount.
What Makes It Awesome
St Thomas Mount is a tiny hillock just past the Kathipara junction as you're going towards the airport. It's known for the St Thomas Mount Shrine that is at the summit, which was apparently visited by the Pope in 1986! It was originally constructed to act as a lighthouse to Portuguese and Armenian ships and has 134 steps leading up to it that are made entirely out of granite.
The shrine is an architectural masterpiece; there's plenty of intricate figurines, wall paintings that go up to the ceiling, ornamented arches and elaborate inscriptions to marvel at. Getting to the shrine is a 5-minute walk up from the car park below. Right above the shrine lies a clearing with plenty of rocks and a big banyan tree and as you get up there, that's when you catch a glimpse of the breathtaking view. What almost looks like the map screen on a video game, you can see the entire layout of the city and how awesomely green quite a bit of it is. Seeing the horizon on all sides is an amazing feeling and makes for stunning photos. Chances are, you will also see a few planes flying over you as the runway for the airport is just a few hundred meters away!
Pro-Tip
There's no camera fee and aside from the nominal parking charges, this experience is free! Do note, we recommend coming here post 4pm or pre 8am as it can get pretty hot during the day.