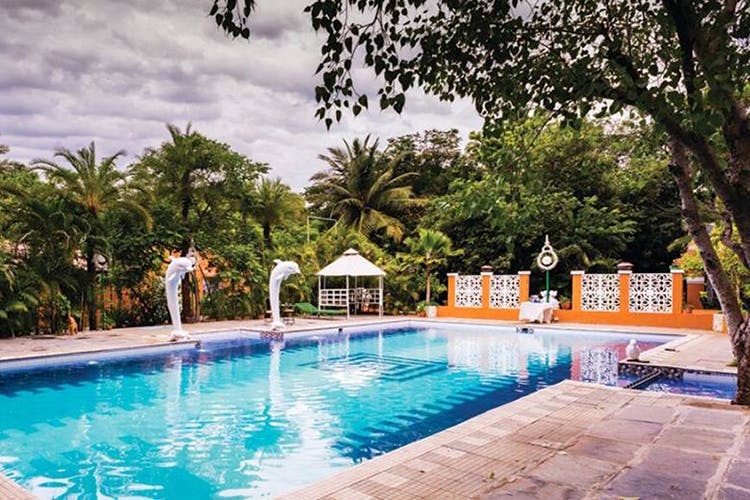 Hit The Waves, Pool or Spa? Enjoy A Lovely Staycation In Chennai At These Awesome Places
Travelling to exotic locations and far off destinations can be a task in itself when you are looking for a quick holiday. How about staying right here or close to the city and making the most of a staycation? Skip those long-distance travel woes, and check out these cool places in and around Chennai for a quick weekend retreat.
IndECO Resort, Mahabalipuram
This heritage hotel in the heart of Mahabalipuram is a great place to rejuvenate mind and body. Take a trip on their organised Catamaran rides in the sea to see the famous Sunken Temples, get a relaxing massage at their Ayurvedic spa, nourish your body with fresh seafood and marvel at relics from the British era at their in-house museum! Prices for rooms start at INR 3,500 per night. Though you may be able to get a better price thanks to their off-season discount going on currently. Oh, and they've got pet-friendly rooms too!
The Park, Anna Salai
For those of you not in the mood to leave your creature comforts, check in to The Park on Anna Salai. With a rooftop swimming pool that overlooks the entire city, The Park has one of the prettiest and most happening addresses in the city and it take pride in pampering its guests. Spend your waking hours at their day spa called Aura as they massage your worries away and then head to their 24 hour pool-side restaurant to chow down on their food. Prices start at INR 4,500 per night.
Surf Turf, Kovalam
This surf school and bed & breakfast on the beach is the place to be if you're a beach lover that wants to get away from the hustle and bustle of city life. Their bed and breakfast is small and has five beautiful sea facing rooms. They've got their own entrance to the beach and staying there also means that you can access their surf school facilities. In fact if you're interested in learning to surf we recommend checking in on a Friday and trying out their morning surf classes before the weather gets hot. They've got a restaurant too, which serves seafood and simple café food. Prices for rooms start at INR 2,500 per night.
Somerset Serviced Apartments, MRC Nagar
Couples looking for a little extra privacy will enjoy staying at the Somerset Serviced Apartments right near the coast. You can rent small studio apartments with just one bedroom all the way up to three bedroom suites. Amenities wise they have a gym, a rooftop garden with a barbecue area and an infinity pool that merges with the Bay of Bengal that is mesmerizing. There's also Radio Room, one of Chennai's favourite watering holes right next door along with Broken Bridge Cafe for thayir saadam fritters and Fromage for boozy choco shots, so there's a good night out in there too. Prices start at INR 5000. They currently have a 15 per cent off discount going so check it out now!
ITC Grand Chola, Guindy
For those of you looking for really top-notch pampering, check in to the ITC Grand Chola, the third largest hotel in the country! Known for its palatial size and traditional Chola architecture the seven-star hotel has eight award-winning restaurants, a beautiful bar called Tranquebar, a health spa with all the frills from a Jacuzzi to body wraps and massages, five swimming pools with three on the rooftop and a luxury beauty salon for men and women.
Comments