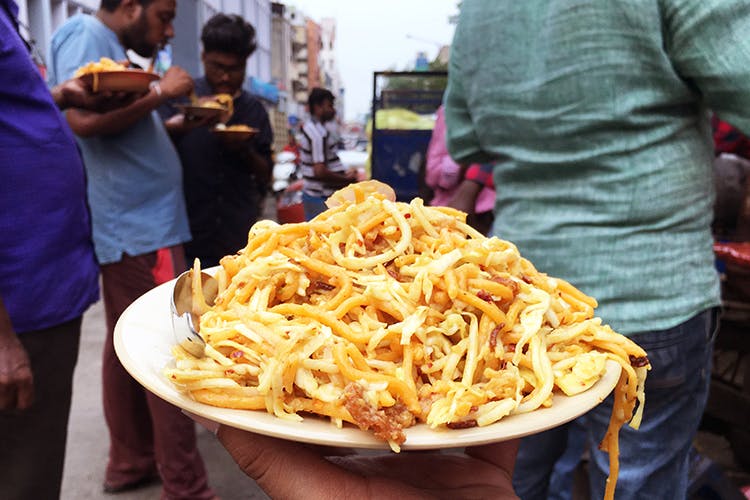 Burmese Noodles To Jigarthanda: A Broke Person's Guide To Street Food Under INR 50
Chennai is very famous for its street food, but what's also special is that you can get your hands on most of these by spending less than INR 50. Don't believe us? Keep reading to find out more!
Bolis At Venkatramana Boli Stall
Boli is a popular Indian sweet flatbread and you might recognise it from its other names like pooran poli, holige or obbatu. If you're craving this traditional snack, head to Venkatramana Boli Stall in West Mambalam that makes fresh bolis every day at just INR 5! There's no seating available and it can get crowded in the evenings, so make sure to get your plate of "boli-cious" snacks nice and hot!
Sandwiches At Royal Sandwich
Sandwiches will always remain everybody's comfort food. Check out Royal Sandwich at Alwarpet that also has outlets all over the city for some yummy masala and green chutney between two layers of soft bread! They start at a price of INR 50 and serve over 50 kinds of sandwiches that you're probably going to get dizzy from choosing.
Spring Potato & More At Bessy
No matter which beach you visit in the city, you are most likely to kind almost the same kind of grub. But head over to Bessy, get your hands on interesting eats like Spring Potato or Twistatoes (spring-like deep-fried potato garnished with mayo and masala of your choice). The basic version of this costs about INR 50 but if you want more toppings it'll cost more. There's also boiled sweet corn or roasted corn, sundal and ice gola. Click here to get a guide to Besant Nagar's street food.
Jigarthanda At T-Nagar
Here's something that's healthy and will also quench your thirst in a jiffy. And the best part? It even has ice cream in it! Jigarthanda is a cold beverage that originated in the city of Madurai and literally translates to "cool heart" in English. You can find this in almost all the Murugan Idli Shop outlets across the city or you can also head to Madurai Famous Jigarthanda in T-Nagar where jigarthanda costs INR 30 only.
Samosas At T-Nagar
If you thought that T-Nagar is only a shopping hub, then you're wrong. It is also a haven for yummy street food. So the next time you're here, don't forget to try the crunchy, tiny, onion samosas outside Kumaran Silks. It's a steal at INR 20 given that you get six samosas! Along with it, you could head to Anna Nagar where Murugesan Anna will serve you with his over a decade old samosa making skills.
Chaat At Nungambakkam Chaat Corner
Head over to Karishma Pani Poori shop on Nungambakkam High Road for lip-smacking pani puri in the city. We bet you can't stop at just a plate or two! You can also try samosas and bread pakoras while there.
Beef Biryani At Bai Biryani
Here's something that'll fill your stomach to its fullest - beef biryani in Bai Biryani. A small restaurant in Triplicane, this place is extremely famous for its aromatic and yummy beef biryani that costs only INR 50. If you're ever around, don't forget to visit.
Atho At Burma Bazaar
Bored of the same old evening snacks? Head over to Burma Bazaar and taste some of the Tamil-Burmese dishes it has to offer like Atho, Khowsuey etc. Atho is noodles cooked with cabbage, onions, tamarind, chilli powder, and lemon juice and then hand-tossed in garlic oil. Khowsuey is also similar to Atho, but with the addition of coconut milk. Read more about Atho and where you can find it here.
Bajjis At Jannal Kadai
Bajjis or fritters are an all-time favourite snack in the city and Jannal Kadai in Mylapore is one of the best places for you to try hot and crunchy fritters. Try the vazhakkai bhajji (three pieces) for just INR 30.
Rose Milk At Kalathi Newsmart
Well, you definitely need something to wash down all that food right? Head over to Kalathi Newsmart in Mylapore and try their iconic rose milk which is the perfect blend of sweet rose syrup and creamy fresh milk! And it's just INR 15 for a refreshing glass! Perfect to beat Chennai heat.
Did we miss something? Click here to recommend.
Comments