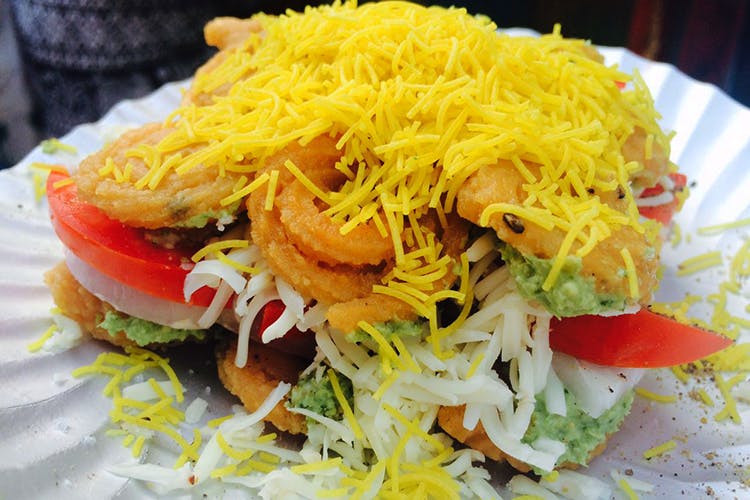 Murukku Sandwiches To Cheese Vada Pav: Head To This Lane For Authentic Street Food
If you think Chennai is only about dosas and idlis, then you have probably not visited Mint Street in Sowcarpet yet. From street food like pav bhaaji to pani puri and the real deal, mind you can be found on Mint Street. We recently went for a food walk and found a little bit of Bombay, a little bit of Delhi, and lots of Rajasthan in this not-so-tiny street in Sowcarpet. Mint Street, a prime street in the busy locality of Georgetown and has evolved to become a street food hub with cuisines from all over India being present there.
Mehta Brothers
You need to start with the cheese-mayo vada pav at Mehta Brothers, a tiny stall on Mint Street. These delicious vada pavs taste like its straight out of Mumbai and cost a mere INR 40. The Mehta Brothers aren't stingy about the cheese —they load it up in the vada pav along with mayonnaise. If you want to spice it up a bit (we suggest you do), then go ahead and ask for the green chillies to compliment your vada inside the fluffy pavs! They also have different kinds of vada pavs, kachoris, and sweets. Price: INR 40.
Novelty Tea House
Established as a tea cart in 1958, Novelty Tea house is now a chain operating from different parts of Chennai. We tried their famous pav bhaaji, and it was absolutely delicious! This is one of the best dishes to try on the street. Although they have an extensive menu, we suggest you to just try the pav bhaji to keep some space for other items in the food walk. However, it is a bit on the expensive side at INR 130, but hey, you get to sit inside a half-a-century-year-old air-conditioned shop with great service!
Price: INR 130
Kakada Ramprasad
This place is definitely the star attraction of the entire street! Kakada Ramprasad is a spacious, well-lit outlet which is quite famous among Chennaiites. They have an extensive menu with amazing chaat, but we had the best aloo tikki experience ever and were awestruck with their special badam milk. The aloo tikki was perfectly fried and had the right amount of chutney and toppings, and the badam milk was loaded with chunks of almonds. The badam milk is quite filling, so save it for the end of your food walk. We have had really good aloo tikki across the country, and this aloo tikki trumps all our tikki experiences.
Price: INR 100 for aloo tikki and badam milk each
Anmol Lassi
No Mint Street jaunt is complete without Anmol Lassi. The owner, Dinesh Soni, a wrestler-turned-lassiwalla, is quite popular in the area. His kesar lassi and buttermilk are one of the best we have had and is just the drink you need for the crazy heat of the city! Priced at INR 70, the kesar lassi is refreshing and perfect for hot days. The generous quantity of the lassis get a thumbs up from us too.
Maya Chaat
This small outlet, which lies 200 metres off Mint Street, is a little bit of Jodhpur in Chennai. Jodhpur is quite famous for its onion kachoris and mirchi vada, and we found just that at Maya Chaat! Finding good onion kachoris anywhere in India expect Jodhpur in Rajasthan is quite rare, but this outlet which sells other savouries and namkeen too does full justice. Nominally priced at INR 15, the onion kachoris are as authentic as they come by.
Price: INR 15 each
Golden Shop
This quaint old stall, the smallest of the ones we have visited so far, is difficult to spot. But try not to miss them, and do try their cheese murukku sandwich. A very popular dish in Sowcarpet, the murukku sandwich is a fusion dish — veggies and cheese stuffed in between two small murukkus. The golden shop also sells multiple dishes ranging from pani puri to kachoris, and you can even parcel some these to take back home.
Price: INR 50
Comments