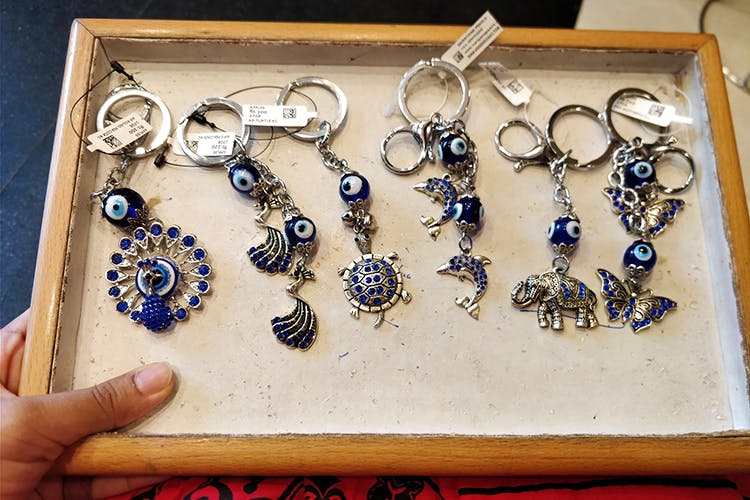 We Found Some Cheerfully Good Products At Pondy Bazaar For As Low As INR 60
It's no surprise when somebody says Pondy Bazaar, one immediately thinks of street shopping. This bustling area in T Nagar is pretty much synonymous with budget shopping. Sure you don't find as many local roadside vendors as you used to but there's still a lot to discover in every nook and corner. Forget the big stores like Naidu Hall, Big Bazaar and Rathna Stores for a second and wade through people and streets and step inside the little shops with their charming, chirpy vendors for some lovely finds. But don't be fooled, we say — bargain with a vengeance!
Quirky Kalamkari Fabrics At Kalanziam Tex
Find reams and reams of colourful fabric here at Kalanziam Tex. Once you get into Pondy Bazaar and cross Big Bazaar, walk down the entire stretch to find little shops that sell everything. One of them is this place which has all kinds of fabrics in fun prints and colours. We loved the Buddha face prints of course which starts at INR 130 per metre. Turn it into a pretty dress for the summer!
Price: INR 130 upwards
Bright Wallets From Kanchi Plaza
We spotted a wallet vendor on the side of the road. Kanchi Plaza, he said, was the name of his brand of wallets. We found a pair of nice shades of blue and pink and they were just INR 80. Don't expect them to last long, but they're definitely cute enough to add to your shopping agenda.
Price: INR 80 each
Fancy Laces & Borders At Noori Lace House
At one of the turns, near the post office you'll find a store that's been around for over 50 years, the shopkeeper tells me. Noori Lace House is a tiny store stocked with all kinds of lovely laces and borders to deck up an old boring saree. From simple ribbons to zari borders, get everything you want here. Oh, and with a wink, he tells me you can get away with a little bargaining. We're definitely coming back for this one!
Price: INR 280 upwards
Evil Eye Keychains & Dreamcatchers At Narayana Pearls
Get these cool evil eye keychains, that cost around INR 200, with an animal of your choice attached to it. Peacock, dolphins, turtles or elephants — take your pick. They also have dream catchers in happy shades of pink, blue and purple. Way to spread some good aura all around!
Price: INR 170 upwards
Mojris At Gilton Footwear
So footwear is really hard to find at Pondy Bazaar. Yes, we know there are a gazillion shops but most of them have really gaudy shoes, which personally we're not fans of. But we did find a pair of mojris at this shop — one even had a multicoloured front with pearls on it which looked quite funky. Haggle and try to bring the price down to about INR 300. Or less, if you're an expert!
Price: For INR 350 upwards
Cute Washi Tapes And Stickers At Three Star Fancy Corner Store
We found some adorable washi tapes in bright pop colours and thick foam stickers of bunnies and leaves! And they start at INR 65. You can even find all kinds of other products to feed your stationery obsession. Don't miss this little store.
Price: INR 65 upwards
Threadwork Bags At New Punjab Handloom
The bags and wallets at this place caught our eye. Bright happy colours with pretty intricate threadwork, you can pair this with a simple monochrome kurta and the bag will happily stand out. They even have rugs, bedsheets and more.
Price: INR 320 upwards
Thread Bangles At Kumar Fancy
Match your kurta or saree with these pretty thread bangles (you even get other kinds) here for under INR 100. They even have trinkets, bits and bobs and more. You can also check out their funky terracotta earrings priced slightly higher at over INR 300.
Price: INR 70 upwards
Jars For INR 75 onwards
Know those cute pickle jars grandma guards with her life? Well, we found just those in a pavement stall opposite Naidu Hall. You don't have to pickle mangoes or set curd in them, use them to store your earrings, place them as decor in your study table. The vendor also offers other colourful crockery, and though his collection is limited they come in a range of prints and colours that'll definitely find a way into your homes.
So there you have it. Some of our awesome finds. Do note you'll need at least two hours to keep aside to shop here!
Did we miss anything? Let us know in the comments below!
Comments