Thalaivar Fans! Celebrate Rajnikanth's Swag At This Superstar-Themed Pizzeria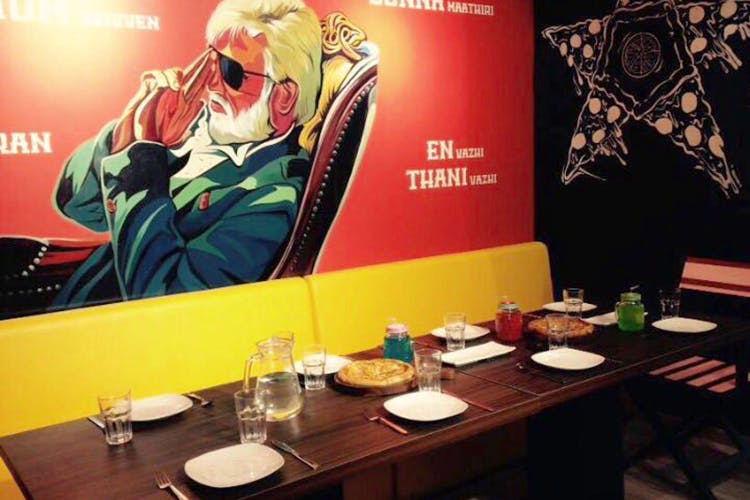 Shortcut
If you're a true Rajinikanth fan, you'd want to be at this Thailavar themed restaurant, Superstar Pizza, at Besant Nagar.
What Makes It Awesome
If you grew up watching Tamil cinema or even if you didn't, to be honest, you know what a legendary icon Rajnikanth is. His badassery on film and his simple and humble persona in real life have created a throng of followers quite unimaginable to count. So obviously a restaurant had to be launched in honour of him. Here, at Superstar Pizza that's been around for a few years, expect an ambience with portraits of the legend painted all over in cheery colours. There's a wall of fame on the side with stills from his many hits like Enthiran and obviously his "punch" dialogues. And the music here – yes, they play songs from his movies, duh.
Moving onto the food, there's a spicy chilli chicken based pizza aptly titled Neruppa Da (loosely translated to "fire"), a chicken-satay based pizza called Kabali, and six mini bite-sized pizzas available in different flavours and titled Padayappa. There's also the 9-inch thin crust pizzas like the Muthu with golden corn and jalapenos at INR 295 and the best one yet, Arunachalam where you get unlimited pizzas and garlic bread from 12 noon to 3pm on weekdays. How awesome!
There's also sandwiches, shakes, pasta coming in as "guest roles" on the menu, but the pizza is obviously the hero here.