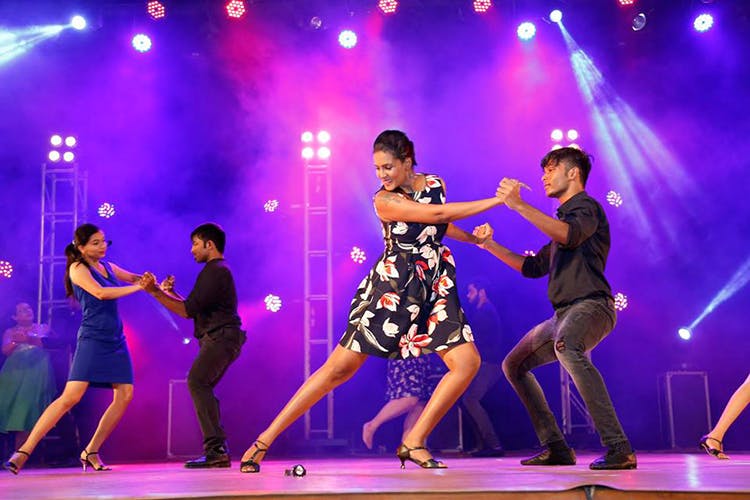 Hip-Hop, Zumba Or Get Moves Like Jagger At This Popular Dance Studio
Shortcut
The Swingers Dance Company is a popular name in Chennai's Western Dance community. They have studios across the city that you'll want to join if you live to dance.
What Makes It Awesome
So you think you can dance, Chennai folks? This dance company founded by choreographer B Murali, who was one of the first pioneers to bring the concept of Western Dance to Chennai (back in 1998). Currently, they have studios in T Nagar, Kilpauk, Adyar and Kodambakkam, so if you live somewhere close by and love to dance, join up for classes right away! So what do they offer exactly?
If you're a professional you can audition to be part of their dance crew and be part of many stage shows and the like, but if you're a beginner or someone who wants to learn a new style of dance you can do that here too. Swingers Dance Company offers a range of classes over the week for different batches based on your age group. For teens and adults, you can join a course where they will teach you a mix of hip hop, jazz and contemporary dance. Don't worry if you have two left feet, the instructors are here to help! The course comprises three levels and each level lasts about four months. At the end of the third level, you'll even be given a certificate. They offer two classes a week according to your convenience and it costs INR 1,300 per month.
Also if you're a wee bit shy to dance in front of people, dance like no one's watching with your own personal instructor. They offer private classes but this depends on availability of instructors, so do give them a call before signing up. Is salsa more up your alley? Sway with bae at their salsa classes that happen over the weekend. For two classes a week, it comes up to INR 1,300 per month. If you want to perfect your moves, they suggest sticking around for classes at least for three months. If all you care about is getting fit, we're excited about that these guys also have Zumba instructors on board. For anyone who hates gyms but loves to dance and get fit, there really is no better way! Zumba is a killer cardio workout and you won't even realise you're exercising because you end up having so much fun! Anyone who's 14 years and older can join two classes per week at any one of their studios. This comes up to INR 1,400 per month.
So, Chennai peeps, if you've always wanted try something new or get fit through a fun, alternate way, look no further. Get swingin'!
Comments