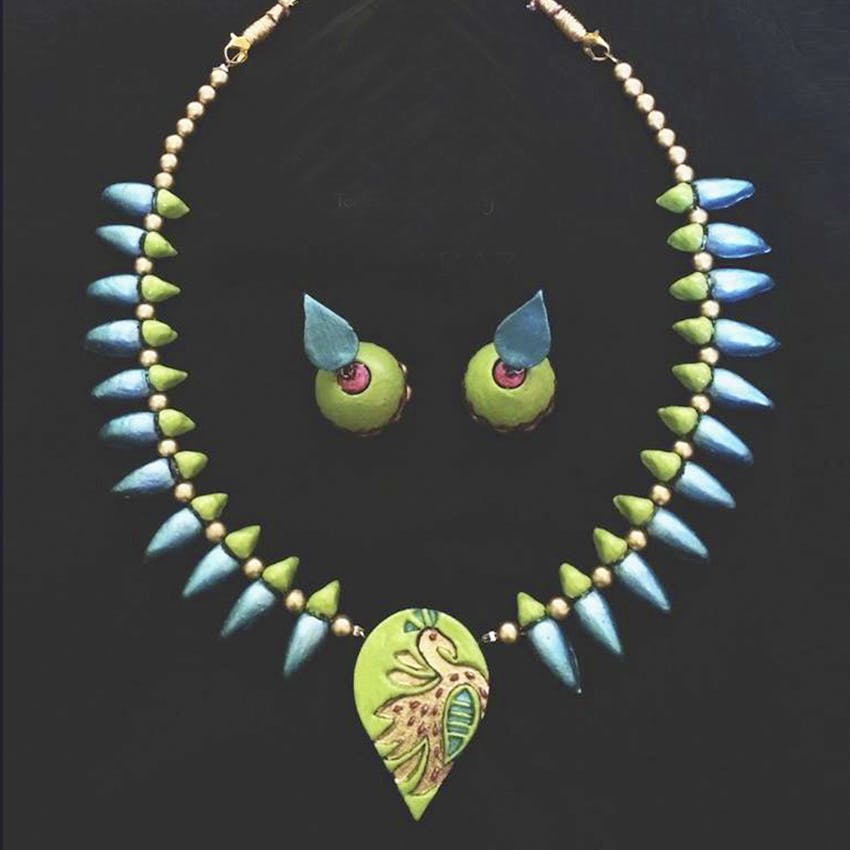 We're Going Indie With Terracotta Accessories From This Store
Shortcut
Who said terracotta jewellery is outdated? The Mesopotamians had some great style and like trends repeat, clay/terracotta jewellery is once again in fashion. Rock that indie vibe with handmade jewellery from this label.
What Makes It Awesome
Hey earth daughters! We found something you may like. This accessories designer has set up shop in T.Nagar and is more than happy to experiment with her passion for making terracotta jewellery. Megna Maaran handmakes and customises jewellery for you. Her brand, Tarazri Terracotta Jewellery, offers a range of crafted and painted accessories that you can choose from too.
The jhumkis at this store warrant a mention. Every piece reflects the expert handiwork of the designer. We fell in love with Tarazri Terracotta Jewellery's Goddess Laxmi jhumkis. The miniature carving of the goddess' figurine was on point. We were also impressed with her 'Golden Song' and 'Golden Chand' necklace and earrings sets. They offer a range of beaded necklaces too that are painted using shades of red, black and gold and those pieces are engraved with animal and traditional designs.
Tarazri Terracotta Jewellery further conducts workshops where they teach participants how to make jhumkis, studs, danglers, beads, necklaces and rings. The workshop involves all the steps required to make a finished piece of jewellery which includes the baking and painting process. Their accessories are priced between INR 300 to INR 1500 and every order is customisable.
Pro-Tip
Call them for customised orders.
Comments