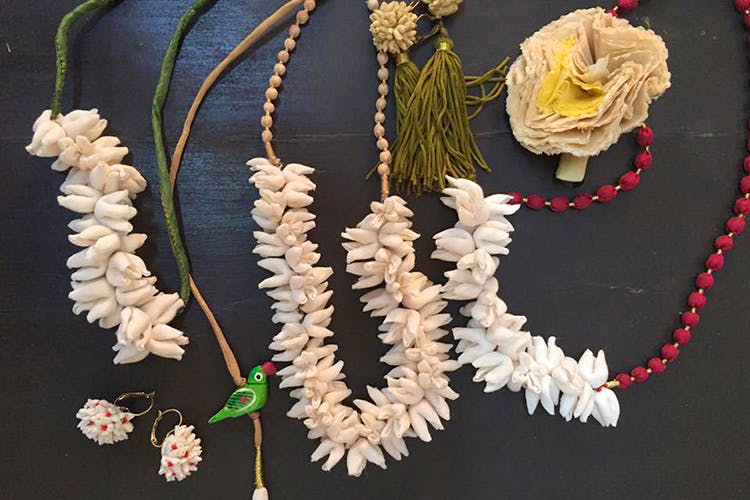 Silk Saree Necklaces To Chanderi Gajras: These 5 Brands Offer Stunning Fabric Jewellery
Tired of the usual silver and gold, and on the quest for accessories with a twist? Here's a list of some fabulous handmade textile jewellery (and accessories) that'll make for the best conversation starters!
Mayabazaar
Mayabazaar is a brand synonymous with quirky, bold statement pieces. Their collections include painstakingly handcrafted and designed neck-pieces and bracelets with metal and semiprecious stones, and wonderfully vibrant cotton yarn and silks in vegetable dyes. It aims to revive the dying craft of rural artisans and giving them back their livelihoods.
Bonus: you know you're wearing sustainable fashion because the brand ensures the use of natural, non-toxic, renewable materials and processes.
Makutu by Nomad
With the slogan "rural-unfashion," the brand Nomad strives to bring the traditional styles of nomadic tribes back into fashion. Their Indian gypsy-inspired collections of apparel and jewellery in a riot of colours are the epitome of bohemian-chic, and the fact that they upcycle old fabric makes them eco-sensitive too!
Don the lovely "Awa" brooch and one of their many jingling anklets, wear the gorgeous "Gulabi" or "Genda" fabric flower in your hair, and celebrate the madcap wanderer in you!
Pure Ghee Designs
Apart from their incredibly vast range of bright and colourful brocade potlis, totes and silk clutches (really perfect for those ever-upcoming festive occasions or that wedding you have to attend), Pure Ghee offers the most charming handmade textile accessories too!
Choose from delicate Chanderi jasmine gajras and bolder, more colourful silk flower gajras to dress up your hair knot, or don their textile jewellery inspired by India's riotously colourful art and craft. Their line of Mogra jewellery is truly avant garde and one-of-a-kind.
Paulami by Paulami Saha
Paulami Saha's brand deals mainly with the use and innovation of the simple Kantha embroidery stitch (done by the best Kantha embroiders in Shantiniketan) on various accessories. Her jewellery line has Kantha bib neck-pieces and the most charming textile earrings — think vibrant rani pink fabric birds with yellow Kantha detailing or little electric blue cotton fishes with white embroidery dangling from your ears!
House of Wandering Silk
If you're willing to dig slightly deeper into your pockets, House of Wandering Silk has some truly classy jewellery to match your budget. Its upcycled neckpieces made of old silk sarees — consisting of multiple rows of single or double coloured textile beads – are dramatic, chic and eye-catching, and can be dressed up or down. Wear one with a plain white shirt or even a silk saree, and you're bound to attract some lustful gazes!
Also, check out their collection of single rows of larger silk beads with a dangling silver jhumka as a pendant – you're likely to want it in your jewellery box asap!
Comments