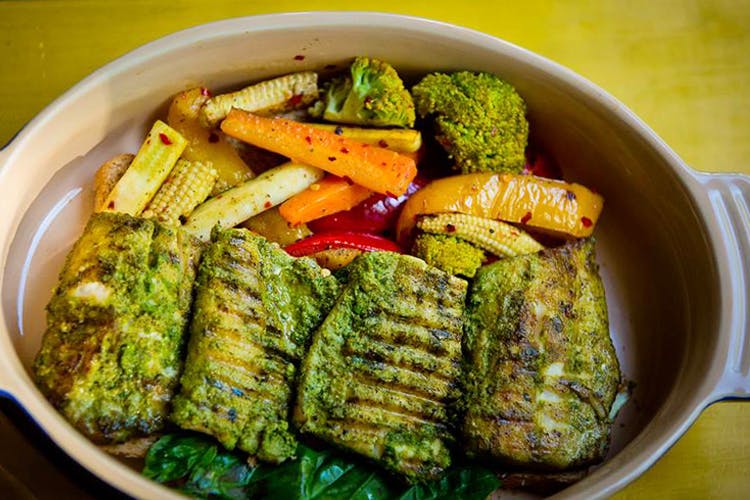 Shrimp Popcorn, Madras Poutine & Happy Hours At This Cafe In Adyar
Shortcut
That Madras Place is a quaint café in Adyar that serves everything from home-made desserts and ice-cream to creamy cheesy pasta and even shrimp popcorn!
What Makes It Awesome
The interiors and furniture are done up in a fusion style. There are metal chairs, which are paired with quirky designed cushions and the cafe sports an open kitchen which gives it a modest European look, complete with an antique wall clock and French windows.
What catches your eye the minute you step in is a doodle wall filled with phrases and illustrations that every true Chennaite should be able to relate to. From the cute chalkboard menus to colourful stilted chairs, we're loving the vibe of That Madras Café. Be it breakfast, lunch or dinner, That Madras Place has it all. From omelettes and scrambled eggs that are served all day to short eats like fries and bruschetta to pastas, burgers, and sandwiches to dessert, ice-cream and even tea, there's a lot to choose from. But what we love most is the Happy Hour Menu starting from 4 pm that goes on upto 7 pm.
We tried The Madras Poutine, an in-house specialty with crispy fries and a home-made Madras style sauce with jalapenos (finger-licking delicious!). Their Tomato Sauce and Basil Spaghetti is one of the best we've had yet with just the right amount of flavour in the sauce. We also tried the Beef Burger with Bacon Jam but the bread was a little too dry. Coming to desserts, we tried the famous Theobroma which had layers of different kinds of chocolate and chocolate crumble base, slightly heavy but tasted heavenly. Another highlight is the Nutella Cheesecake in a Jar, which was just perfect (no complaints here).