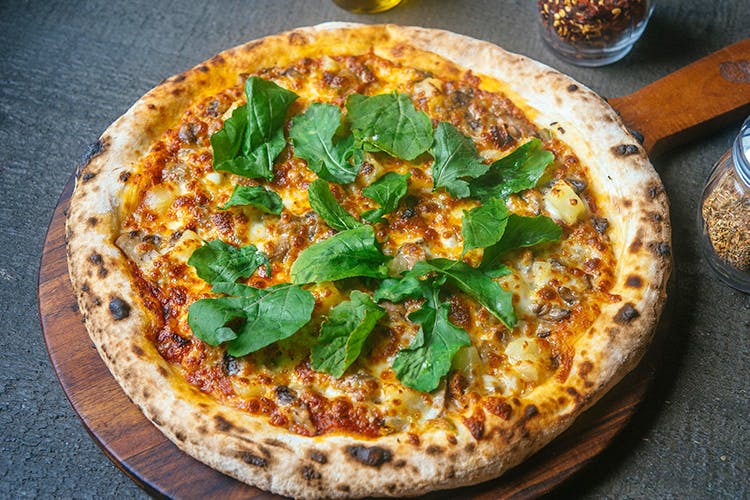 Enjoy A Big, Fat Meal Of Delicious Wood-Fired Pizzas At This Alwarpet Joint
Shortcut
Your search for wood-fired oven pizzas ends here. Head to this joint in Alwarpet for delicious wood-fired pizzas like the one with four kinds of cheese… yum!
What Makes It Awesome
If you're looking for the perfect place to relax with your friends, The Fat Boy in Alwarpet is it. With big windows welcoming in the sun and bright lights tucked away and out of sight, the restaurant gives you a cozy and comfy vibe. Once you sit down, you never want to leave. The décor is simple, with one entire wall covered in different variations of their mascot (a fat boy) in orange, against a white wall. It's simple and yet, cute. You'll definitely find a kid or two trying to imitate the faces.
But the most attractive thing about the restaurant is the open front kitchen where the beautiful wood-fired oven is located. Look closely, you might actually notice just how beautiful the dome of the oven is, because it's not just a hole in the wall, it's been decorated to look as beautiful as it should. After all, that's where they cook the pizzas and garlic bread, while everything else is tucked away in the back kitchen.
Their menu isn't large, but it's definitely filled to the brim with great dishes. The wood fire pizzas are their main focus, but they also have sandwiches and starters, plus milk shakes and other hot and cold beverages.
Split into vegetarian and non-vegetarian options, the menu boasts of something for everyone. Of course, the first thing you want to do is choose your pizza, so that while they bake it to perfection, you can pick and choose from everything else. They have a four-cheese pizza called The Fat Boy which is loaded with mozzarella, ricotta, pecorino, and goat's cheese and it is a must try.
Pizzas are not your thing? We're judging you a little right now. Then the sandwiches might be what you're looking for. Give the Mohawk Boy a shot, a panini sandwich stuffed with buffalo chicken, buffalo sauce, mozzarella and bell pepper you are definitely going to be satisfied from the first bite onwards. If you're looking to have a lazy afternoon, then you definitely need to start off with their short eats. Especially the Bacon Cheese Garlic Bread which is also made in the wood-fired oven and is topped with cheese and bacon bits.
Comments