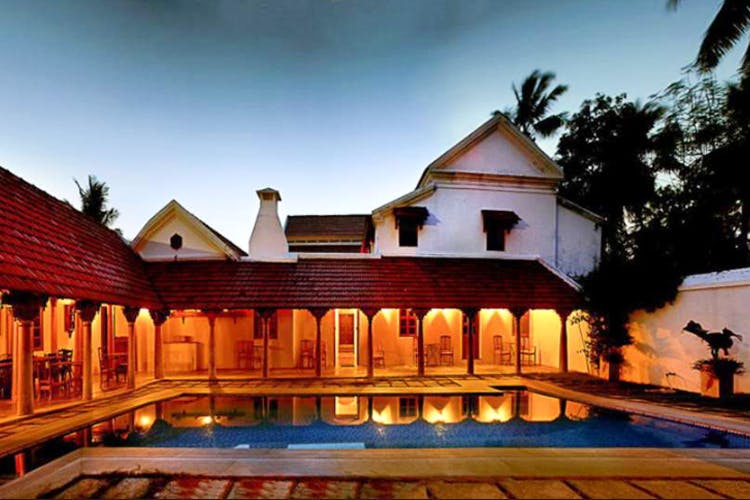 Escape To This Gorgeous Tamil Bungalow In Tranquebar For A Relaxing Weekend
Shortcut
The Gate House in Tranquebar or Tharangambadi is a 17th century indigenous Tamil bungalow that has been restored by Neemrana Hotels. And it's oh-so peaceful out here.
What Makes It Awesome
A unique heritage property by the beach, The Gate House is a luxurious bungalow that is a perfect lazy weekend getaway if you're just looking to chill and not be an avid tourist. Expect to stay in a traditional bungalow, complete with red tiled floors, internal pillared courtyards, and intricately carved wooden stairways. The ambience and décor of the property are classy and ethnic and they even have a cooling pool at the property. Bliss!
Although The Gate House houses only six rooms, they are all designed with unique themes and have stories of their own. The Swamimalai Room is named after the agricultural town of Tamil Nadu which is famous for being one of the battle camps of Lord Murugan. The room is a spacious and on the ground floor at the back of Gate House that has direct access to the garden and the back verandah making it pet-friendly too. The Srirangam Room is named after the temple town of Srirangam in Tamil Nadu and is one of the two rooms situated on the first floor of the Gate House.
Its main access is from the open-air private lounge overlooking the pool in the main courtyard of the house. The other rooms are called Darasuram (named after the temple town famous for the Airavateswara temple built by Rajaraja Chola in the 12th century), Chidambaram (named after the town of Tamil Nadu which is famous for its temple dedicated to Nataraja, Lord of Dance), Kumbakonam (named after "the Cambridge of South India") and Thanjavur (named after "the rice bowl of Tamil Nadu").
A weekend stay at The Gate House is sure to take you back in time to a by gone Danish era in the demure town of Tranquebar. The heritage property offers activities like bird watching, heritage excursions and boat rides. If you're dying to take a swim, head to the pool in the courtyard or drop by the beach which is only a short walk away. All meals are served at the Bungalow By The Beach which is another Neemrana Heritage Property that's a five-minute walk away (there's no room service here). But despite that short walk, it's quite a laid back traveller's paradise.

More Information
Gate House - 17th Century
Comments