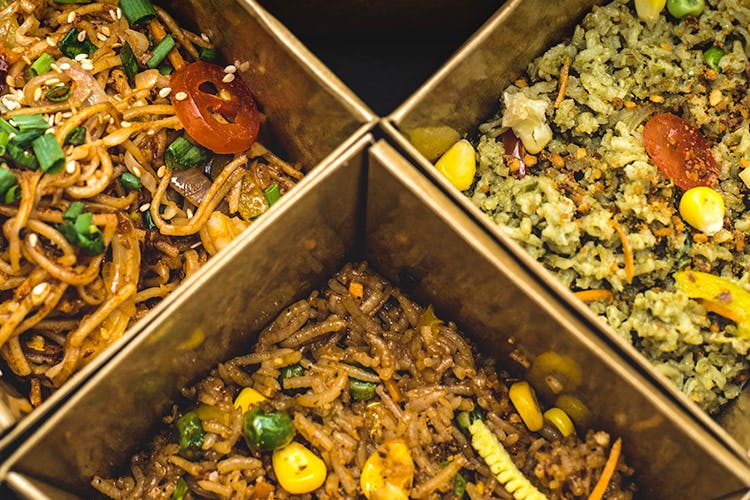 OMR Folks, This Takeaway Service Lets You Make Your Own Wok Boxes
Shortcut
If you're a vegetarian who finds comfort in Oriental cuisine, you're going to love these takeaway wok boxes at The Wok Box Co. in Thoraipakkam.
What Makes It Awesome
Live or work on the OMR stretch and craving Pan-Asian? Then the Wok Box Co. is here to deliver. Their baos are scrumptious and they make customising your own wok box all the more fun. You can order through Zomato, or if you're in Thoraipakkam you can get your order to go.
Start by choosing your own base — there's flat or hakka or wheat noodles and fried rice and even brown rice (for you health conscious types). We choose flat noodles and then we added the sauces. You can pick from the smoky Teriyaki, Chinese Black Bean, the peanut butter flavoured Balinese Sauce, Thai Curry sauces and Hot Chilli Garlic sauce.
But what caught our attention is Shifu's Secret Sauce with peppers and mushroom. Refusing to dish out the secret (we really did try), we're told that this is the most popular sauce here and we could see why. It is delicious! We get to choose five veggies from the list of over 21 and it can be as random as you like. You can also choose two garnishes from a selection of 6 — we picked burnt garlic and roasted sesame seeds. Our dish turned out to be scrumptious even if we do say so ourselves.
If you're feeling too lazy to DIY a wok box, try the baos. The Barbeque Mushroom Bao — soft, pillowy bao stuffed with flavourful mushrooms — is a must-have! We hear the Popeye Bao (aptly green in colour with all that spinach) is a hit too. The Lemongrass Iced Tea was a bit watered down for us and we didn't get a kick of that lemongrass, but the Tender Coconut Cooler was truly refreshing.

Comments