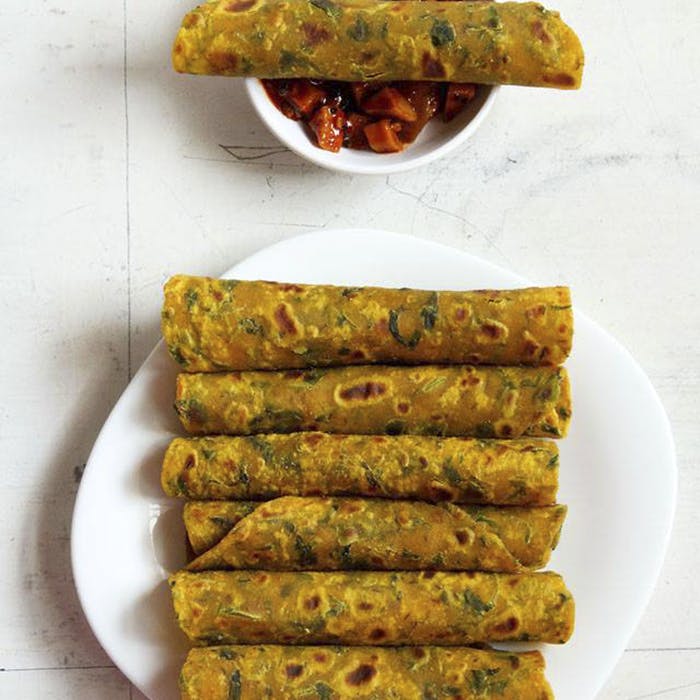 Home Sick Gujaratis, We Found A Place Where You Can Get Theplas Just Like How Ba Used To Make It!
Shortcut
Ditch the dry theplas that you get in cafes and try these homemade, fresh theplas made by a Vandana, a Gujarati herself. She also makes khakra and shrikhand that you can collect from Theplas in Alwarpet.
What Makes It Awesome
A Gujarati herself, Vandana started Thepla In Chennai, two years ago after not being satisfied with what was being served to her at cafes and restaurants. She has a very limited menu but it is hard to get your hands on the theplas if you don't order a day in advance. She makes Methi Thepla, Khakra, and two flavours of Gujju Srikhand.

The light-weight, thin, and spicy theplas come in a pack of five and are priced at INR 100. We recommend you pair the theplas with either dahi (curd), or chundho (sweet mango pickle). We are pretty much showing off the Gujarati inside us. You can also get Vanadana to pack more theplas as per your requirement. If you are travelling abroad and are looking for vegetarian food, Thepla In Chennai can be your go-to option.
The khakra come in three flavours - methi and masala pizza (you read that right), and coconut. Priced at INR 20, these are worth a try and you may love these new flavours! Now for the best part, their shrikhand - sweet, cold, thick, creamy, feel free to add any adjective here as it will go well with shrikhand. Vandana makes them in two flavours -desi kesar and dryfruit mix. A box of 200 grams is priced at INR 100 and INR 450 for a kg.
What Could Be Better
We wish they start an outlet soon. For now, it is only a takeaway joint.
Pro-Tip
She also makes undhiyu but only during the months of December and January. If you are looking for any other specific Gujarati delicacies, hit her up. You must make an order a day in advance to collect it from their Alwarpet outlet the next day.
Comments