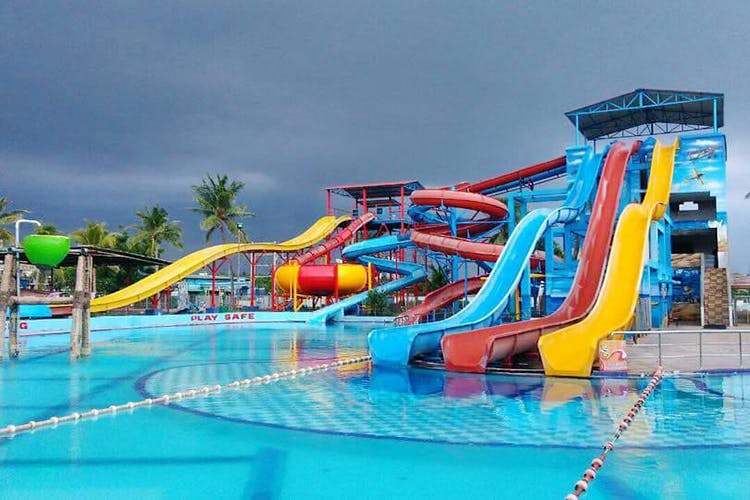 Amusement Parks, Crocodile Banks & Boating: Here's A List Of Awesome Things To Do In ECR
To most locals, ECR (East Coast Road) is the beginning of the journey that takes them to Pondicherry and beyond. But there's so much to do on ECR itself that sometimes you miss out on all the fun. Check out this list of awesome things to do in ECR and find out what they are.
Cholamandal Artists' Village
If you've never been here, it is going to be an experience you will never forget. It was set up in 1966 and is still the largest artists' commune in the country. Artists live in this village where their art is put up on display, alongside art from across the years. It's now one of the most popular places in the country for international artists to meet and spend time. The Cholamandal Artists' Village has galleries that you can walk through, displaying art by artists living in the village and they also have an exhibition that runs all year long. There's also a book shop, a gift shop and a cafeteria, allowing guests to spend a full day just enjoying the art.
VGP Universal Kingdom
There's no way you've driven down ECR and missed the VGP entrance because it's not just bright, it's pretty large and inviting. Started in a time when India didn't any amusement parks, VGP has become quite a staple in the city of Chennai. Right next door is the resort VGP Golden Beach, where you can stay while you're having a good time at the park. And they've got tons of rides to enjoy as well including a Ferris Wheel, Balloon Racer, Dashing Car and more. They also have fun water rides that make for a really good time! And when you're done, you can head over to the Snow Kingdom to escape the heat and enjoy some winter fun.
Tickets: INR 450 (for children – the Universal Kingdom & Aqua Kingdom), INR 550 (for adults – Universal Kingdom & Aqua Kingdom) or INR 795 (or children – Snow Kingdom, Universal Kingdom & Aqua Kingdom)
MGM Dizzie World
Another amusement park along the same stretch of road is Dizzie World, and like any good amusement park, they have rides for all ages. For kids, they have Cup Saucer, Dizzie Express, Rocket Tower and Shoe House. As for adults,they have rides like Kamikaze Ranger, Revolution, Tomb Raider and so much more. And something more is the amphitheatre that will keep you entertained for hours!
Tickets: INR 549 (for children) and INR 699 (for adults)
Muttukadu Lake
The lake is most famous for boating and the boathouse set up alongside the lake allows you to rent a boat or hire a boat for half an hour. You get to spend some time around the lake and come back. It's actually quite enjoyable because you get to go around the lake a few times (depending on the duration of the ride) and see parts of the city you didn't know existed. Very serene and calming that'd be a good break from hustling in the city!
Pricing: INR 530 (three seater speed boat), INR 560 (eight seater motor boat), INR 200 (four-seater rowboat) and INR 120 (two-seater pedal boat)
The Madras Crocodile Bank Trust
If you've never held a baby crocodile in your life before, then this is definitely something that cannot be missed. Not only do they have baby and adult crocodiles, but The Madras Crocodile Bank also has a night safari, which allows you to truly experience the Tamil Nadu wildlife after the sun goes down. Every Sunday evening, before the park closes, there's a feeding of Jaws one of the largest crocodiles in the park, and it is a sight to behold. They have regular feedings of the other animals through the day on Sundays, so make sure that's when you stop by for the full experience. They also house water birds and even have a nesting beach for Oliver Ridley Sea Turtles. Night Safari is from 7 pm–8.30 pm (Tuesdays to Sundays)
Tickets: INR 30 (for children under 10), INR 50 (for adults), Night Safari tickets are INR 100 (for children under 10) and INR 200 (for adults)
Surf Turf
Surfing in Chennai is catching on, and if you're looking to try it out but don't know how to, head to Surf Turf. The surf school offers everything from surf boards and basic surfing gear to rent/buy, along with qualified instructors to teach you how to surf. Situated in a fishing village Covelong Point (30-minute drive down East Coast Road), Surf Turf is a surf school, that will make you fall in love with the sea all over again!

Catamaran Rides At Kovalam
A straight drive down the road from ECR, the Kovalam beach offers rides for the adventurous soul. The guides are present right on Beach Road at Kovalam and depending on the tide, you could get yourself and the gang a ride into the waters. Equipped with life jackets and all the precautionary measures, you don't really have to be a swimmer to do this. The annas here take you right in the centre and help you get down in the water, with the help of a rope. For the next good half an hour, you get to chill, literally in the middle of nowhere. All water around and nothing else. Pure bliss! Price: INR 800
Go For A Cycle Ride
The need for a getaway from the heat and rush of the city to get some fresh air is vital. Take your bike and go on early morning cycling across the highway stretch from OMR to ECR. Not only is this the perfect time to get some fresh air but the stretch is safe with 24/7 police patrolling and has magnificent views of the beach.

B's Hive Kadal
B's Hive – Kadal is a serene villa bang opposite to the beach on the East Coast Road. From relaxed weekends with the squad to throwing insane parties for the gang for various occasions, B's Hive is more than apt, with some super good facilities. The white villa is one of a kind with an A/C dorm and can accommodate more than 10 people. Their outdoor veranda is vast and filled with cane seating and plenty of hammocks! We just spent all day lying down on the hammocks, overlooking the sea and star gazing at nights.
Go Paragliding
Adventure Aero Sports Association is a para-motoring facility in Palavakkam and organises tandem (two people – a rider and a pilot) para-motoring experiences for the public every weekend on East Coast Road (ECR). You can now paraglide above the Bay of Bengal on our very own ECR every weekend. Thanks to a venture by the Adventure Aero Sports Association called Fly2Day, you can now indulge in paramotoring which is almost like paragliding but better cause you don't have to launch off a hill, you're just propelled into the air with the help of an engine.

Comments